---
YouTube Is Taking Down Content Featuring Wagner Mercenary Group
The Moscow Times' Russian service is reporting Tuesday that YouTube has begun removing videos about Russia's Wagner mercenary group, with the the Google-owned video platform explaining in a statement its policies prohibit videos about "criminal and terrorist organizations".
"We make exceptions only for educational, documentary, artistic and scientific videos if they're accompanied by suitable context and their publication is justified," it added. The Times of London newspaper this week reported the UK is preparing to designate Wagner a global terror organization.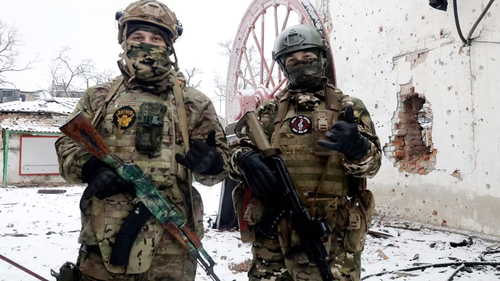 The United States has yet to do so, but is debating it along with other Western allies. The US move could be announced in conjunction with Britain taking action. Starting in January, the US Treasury labeled the group which was founded by personal friend of Putin Yevgeny Prigozhin a "Transnational Criminal Organization".
The government of Ukraine has previously complained that major media platforms like YouTube and TikTok have acted as "effective advertising platforms" for Wagner. But minister Oleksandr Tkachenko has since praised YouTube its decision to move against Wagner-related content with "lightning speed" - particularly channels with over 1 million views.
YouTube's moving against Wagner content is being reported the same week that Wagner chief Prigozhin made a video where he stood over the body of a man who he says is an American killed fighting on behalf of Ukraine in Bakhmut. 
The video presents the man as having died while returning fire against Russian forces. "He was shooting back; he died in the battle, so we will hand over his documents tomorrow morning and pack everything, right?" Prigozhin poses.
The State Department hours after the Wagner claims hit global headlines on Tuesday weighed in by saying it is "aware" of the reports and is looking into the matter. It's unclear if Google/YouTube's actions are related to that video in particular. 
Analysts, journalists, and war watchers are likely to object to YouTube's censoring Wagner content given this is a significant source of information on the war. Often Wagner leaks or conveys battlefield information long before it ever comes through official Kremlin media sources. 
On-the-ground footage of war zones in Ukraine's east can also be found in Wagner content, which war monitors might find invaluable for analyzing the ebb and flow of the front lines. However, the Russian mercenaries have also been accused by Ukraine and the West of committing horrific war crimes.
Loading...