---
Zelensky Admits Ukraine Already Ran Out Of Ammo
Authored by Andrew Korybko via TheAutomaticEarth.com,
The US-led West's Mainstream Media (MSM) began reporting more accurately on the military-strategic dynamics of the NATO-Russian proxy war in Ukraine since the start of the year, but the true test of their comparatively improved integrity will be whether they raise awareness about Zelensky's latest damning admission. In an interview with Japanese newspaper Yomiuri Shimbun, he candidly told his interlocutors that "We do not have ammunition. For us the situation in the East is not good."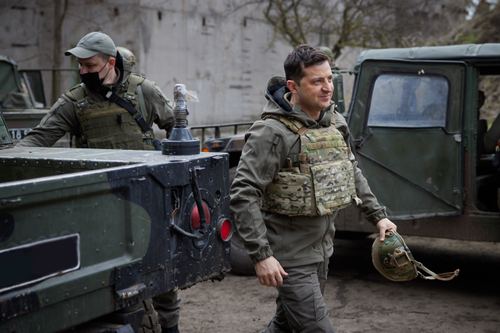 This is a major revelation for several reasons.
The very fact that Ukraine is out of ammunition proves that the West's defeat in its self-declared "race of logistics" with Russia might already be a fait accompli by this point since it's clear that Kiev can't keep pace with its opponent despite being backed by all of NATO's military-industrial capacity. Zelensky almost certainly didn't realize that his candid admission essentially amounted to this, but it's presently unclear whether the MSM will inform their audience about this or not.
On the one hand, doing so could contribute to his forthcoming begging campaign, but it could also backfire if taxpayers start asking whether it's worth ponying up even more money if Ukraine already ran out of ammo despite the over $100 billion in aid that it's received thus far. After all, if that astronomical sum wasn't enough to keep their guns firing, then there's no telling how much will be needed for Kiev to reconquer more of its lost territory like it intends to do.
Not only that, but as was earlier explained, no amount of money can make ammunition appear out of thin air. Quite clearly, fundamental changes in the Ukrainian Armed Forces are needed in order to indefinitely perpetuate this conflict like the US is plotting to do, but its fighters can't immediately transition to using exclusively Western equipment when they're used to operating Soviet-era wares. This poses a dilemma since Russia keeps moving further ahead in this "race of logistics" as each day goes by.
Objectively speaking, the military-strategic dynamics are trending in the Kremlin's favor, which would ordinarily compel Kiev to seriously consider China's peace plan if it wasn't for its American overlords preventing it from doing so. The longer that Zelensky remains resistant to the very thought of a ceasefire, the greater the chances are that Russia will transform its growing advantage in its "race of logistics" with NATO into a decisive victory that could result in Ukraine losing even more territory.
*  *  *
Loading...