---
Zelensky Invites China's Xi To Visit Ukraine As US Rebuffs 'Alternate' Peace Plan
Coming on the heels of Xi Jinping's visit to Moscow where he met with Vladimir Putin last week, Ukraine's Zelensky has formally invited the Chinese leader to visit Ukraine soon, according to his remarks in a newly published Associated Press interview.
"We are ready to see him here," Zelensky said. "I want to speak with him. I had contact with him before full-scale war. But during all this year, more than one year, I didn't have."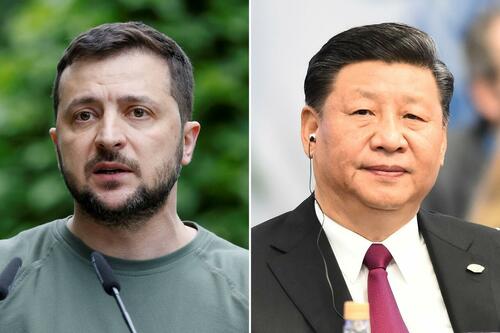 Zelensky initially expressed openness in comments earlier this month given in reaction to Beijing's 12-point peace plan: "I think some of the Chinese proposals respect international law, and I think we can work on it with China," he said at the time.
Just before Xi had arrived in Moscow on March 20, The Wall Street Journal had cited sources as saying there would be a phone call between Xi and Zelensky, but that doesn't appear to have ever materialized.
Zelensky has since invited China to sign on to a 'Ukraine formula' for peace, which wouldn't be conditioned on any territorial concessions. Zelensky has vowed to never concede an inch, but has since shown some degree of doubt over how his forces are faring in the battlefield, particularly in Bakhmut. Zelensky described that the capture of Bakhmut will mean that Putin will smell weakness. According to the Ukrainian leader's words this week:
Speaking with The Associated Press, Zelenskyy said that if Bakhmut were to fall, Putin could "sell this victory to the West, to his society, to China, to Iran," as leverage to push for a ceasefire deal that would see Ukraine agree to give up territory.
This, alongside the potential for Xi and Zelensky to hold direct talks, is worrying the Biden administration, with Ukrainian officials in the meantime seeking to 'assure' Washington of Kiev's steadfastness, as Newsweek in a Wednesday report lays out: 
The top diplomats of Ukraine and the United States on Tuesday jointly cautioned against giving any weight to alternate peace plans that seek a cease-fire without the full withdrawal of invading Russian forces, in a subtle rebuff of a recent proposal by China.

"Ill-advised concessions to the aggressor would only encourage Russia to intensify its attacks on democracy, giving it time to rebuild its military capabilities and resume the armed offensive against Ukraine," Dmytro Kuleba, Ukraine's foreign minister, said at a virtual forum hosted by the U.S. State Department.

Publicly, Kyiv and Moscow have been cautiously receptive to China's 12-point position paper, which reaffirms the "territorial integrity of all countries" without directly mentioning Ukraine, references "legitimate security interests" in deference to Russia, and calls for a quick end to hostilities on the ground.
But if Russian forces do achieve a definitive victory in Bakhmut any time soon, this could tip the scales in favor of Ukraine taking the Chinese peace plan more seriously.
As for Zelensky's invitation for Xi to visit, on Wednesday Chinese Foreign Ministry spokesperson Mao Ning said she has no information on whether an invitation had been received by Beijing, or whether the Chinese president would accept it.
Loading...