---
Zelensky Says Russian "New Mobilization Process" For Major Offensive Imminent
Ukraine says it's bracing for a major new Russian offensive, which will involve a large influx of new ground forces at a time Russian forces are under pressure and reportedly lacking enough manpower to maintain front lines, but did not give a timeline for the expected push.
In fresh statements widely circulated Wednesday, Ukrainian President Volodymyr Zelensky said Russia is planning a major "new offensive" which will involve a planned "new mobilization processes."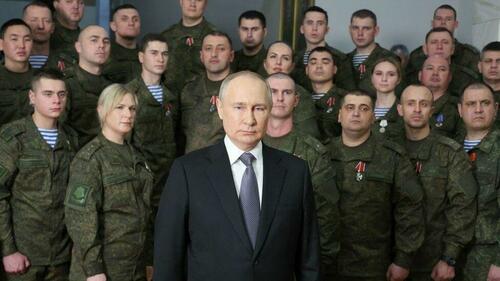 He suggested the new mobilization is imminent given recent Russian battlefield losses in the east, which includes the devastating strike on a barracks in the city of Makiivka, resulting an a huge Russian troop death toll.
"We have no doubt that the current masters of Russia will throw everything they have left and everyone they can muster to try to turn the tide of the war and at least postpone their defeat," Zelensky said. "We have to disrupt this Russian scenario. We are preparing for this. The terrorists must lose."
Kiev had begun issuing these warnings of a major escalation by Moscow shortly after last month Putin referred to the Ukraine special operation as a "war" for the first time. As the The Hill also details: 
Some Ukrainian officials also warned last month about a potential new Russian offensive in January or February, including Gen. Valeriy Zaluzhnyi, a top commander in the Ukrainian army who told The Economist that Russia is preparing some 200,000 troops and could have another go at Kyiv.
Previously, Ukraine's defense minister Oleksii Reznikov also issued a New Year message, and in it appealed to the Russian people, warning that Putin his about to declare martial law and close borders to men, in preparation for a new wave of mobilization.
Reznikov called for Russians to resist these efforts and stand for peace in the video address...
Within Russia, public opinion appears increasingly divided on how military and Kremlin leadership is executing the war, particularly in the wake of the Makiivka barracks attack, which left up to hundreds of Russian conscripts killed. 
Hawks within Russia in the meantime have continued pushing for a more muscular escalation in order to achieve the military objectives laid out since the start of the invasion. Others are calling for both sides to implement a Christmas truce this weekend in observation of Orthodox Christmas (Jan.7 according to the Julian calendar). 
* * *
Is an offensive from the north coming? Is this what Putin was recently in Belarus to negotiate?
Looks like Putin really is going to launch another offensive from the north. https://t.co/FB23b9M8MB

— Gissur Simonarson (@GissiSim) January 5, 2023
Loading...