---
Zelensky To Visit Germany As Scholz Declares Limits For Ukraine
German police and security services say they are preparing for Ukrainian President Volodymyr Zelensky to visit Berlin this month, a trip scheduled for May 13-14, marking Zelensky's first such visit to Germany since the war with Russia began.
It's at the invitation of German Chancellor Olaf Scholz, with Scholz's office not yet having made the official announcement previewing the state visit. But the timing comes amid rising tensions between Kiev and Berlin, despite German Leopard II tanks now being transferred to Ukrainian forces.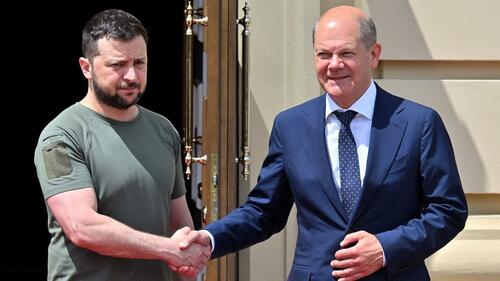 Early in the invasion Germany was accused of slow-playing its support, but followed through with significant military and humanitarian aid to Ukraine while reversing its more neutral policy.
But Germany is still imposing limits on Ukraine related to supplied weaponry, while wishing to avoid being drawn into the conflict and a confrontation with Russia.
Russian state media quoted Chancellor Olaf Scholz early this week as saying, "It's important for us that weapons that we supply for Ukraine to defend itself aren't used in attacks on the Russian territory."
He stressed that Germany is not involved in the war, and seeks to avoid escalation, yet didn't define what he sees as "Russian territory" - for example whether this includes Crimea, which Kiev forces have definitely been targeting of late.
Recently the Kremlin has reiterated its warnings that the steady Western supply of major weapons to Ukrainian forces risks NATO becoming "party to the conflict". So far Ukraine has mounted strikes on Russian frontlines in the Donbas region using US systems like HIMARS missiles.
Germany's aid to Ukraine far outstrips Britain's despite criticisms of Scholz's policy pic.twitter.com/CMY1PYckUe

— Samuel Ramani (@SamRamani2) April 26, 2023
Russia has meanwhile responded by trying to take out arms depots filled with Western munitions and weapons.
Loading...