---
US Cruise Operators Halt Voyages Until Oct. 31 After 2 Ships Hit By Outbreaks Amid Restart
No doubt among the hardest hit industries globally has remained cruise ships. As late as May and June there were still cruise ships essentially stranded as ports refused them entry while outbreaks on board raged among passengers and crew.
Even as some companies have tepidly tried to resume operations in the past weeks, the moment a single COVID-19 case appears on board, all operations have had to be suspended as we noted days ago with the Amundsen.
"One of the first cruise ships to resume overnight sailing in U.S. waters since the coronavirus shut down the cruise industry earlier this year has reported one case of COVID-19 on board," USA Today reports Wednesday.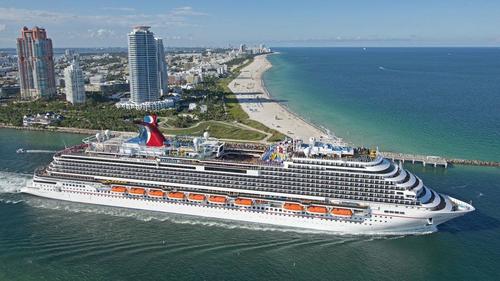 It happened on board UnCruise Adventures' Wilderness Adventurer ship, and all aboard have been ordered to remain in their rooms on ship "until the State of Alaska deems it safe for them to return home," according to an alert on the cruise line's website.
And then there's this ongoing disaster first reported Monday:
At least 41 passengers and crew on a Norwegian cruise ship have tested positive for Covid-19, officials say.

Hundreds more passengers who travelled on the MS Roald Amundsen are in quarantine and awaiting test results, the company that owns the ship said.

The ship, which belongs to the Norwegian firm Hurtigruten, docked in the port of Tromso in northern Norway on Friday.
That number has since grown, and is expended to rise as more tests come back in.
The fact that already two ships have been hit by separate outbreaks a mere few weeks after the industry attempted to restart has resulted in US cruise operators, through the Cruise Lines International Association (CLIA), jointly agreeing to suspend all ocean voyages with passengers until at least October 31.
Reuters reports of the major Wednesday announcement:
The Cruise Lines International Association said its members, which include the three biggest U.S. cruise operators Carnival Corp, Norwegian Cruise Line Holdings Ltd and Royal Caribbean Group, would revisit a possible further extension on or before Sept. 30.

The U.S. Centers for Disease Control and Prevention (CDC) has a no-sail order for all cruise ships through next month's end.

The cruise industry has been among the worst hit by the pandemic, with ships in Japan, Australia and California making headlines for the spread coronavirus cases onboard.
NEW: Cruise operators agree to voluntarily suspend U.S. cruises until at least Oct. 31, according to the Cruise Lines International Association. https://t.co/PnM3cg3409

— ABC News Live (@ABCNewsLive) August 5, 2020
"This is a difficult decision as we recognize the crushing impact that this pandemic has had on our community and every other industry," CLIA said. "CLIA cruise line members will continue to monitor the situation with the understanding that we will revisit a possible further extension," the statement said. "At the same time, should conditions in the U.S. change and it becomes possible to consider short, modified sailings, we would consider an earlier restart." 
Norway and some other European countries have also taken steps to stop or at least limit cruise ships from disembarking temporarily.
While the airline industry has also suffered major slowdowns and setbacks, passenger airplanes have remained largely immune from the types of clearly traceable outbreaks that have devastated the cruise ship industry. 
Many speculate that its not only the long term close quarters nature of a cruise ship, including buffets, tight hallways, and elevators, but also possibly the common ventilation systems aboard.