update: FOX and other outlets are reporting after local Brazilian press broke the news Friday morning: "Brazil's President Jair Bolsonaro has tested positive for coronavirus, Fox News can confirm."
However, the president's official Facebook page has since posted a statement, denying the reports of a positive test for coronavirus, expressly saying the test came back negative.
JUST IN: Brazil President Jair Bolsonaro has tested negative for coronavirus, according to a post on his Facebook page pic.twitter.com/xOP7zo61S9

— QuickTake by Bloomberg (@QuickTake) March 13, 2020
This after Bolsonaro's son, Eduardo Bolsonaro, slammed the initial Brazilian press reports, as "too much lies".
Brazilian officials pushing back hard on the @FoxNews report that Bolsonaro tested positive for the coronavirus, calling it a lie (without having the courage to mention that it's Fox). Seems the game they're playing is 1st test v. 2nd, but who knows?https://t.co/LzpTvp8mer

— Glenn Greenwald (@ggreenwald) March 13, 2020
* * *
It's official: Brazilian President Jair Bolsonaro has tested positive for coronavirus, making him the highest ranking political leader in the world to get Covid-19 thus far.
It was first reported Thursday that Bolsonaro was being monitored and tested, after his press secretary Fabio Wajngarten had tested positive for the virus.
Crucially Bolsonaro along with his aide met with Donald Trump when the Brazilian delegation traveled to Mar-a-Lago on 7 March, with Bolsonaro reportedly having more contact with Trump than this aide, including a Saturday evening dinner at the resort.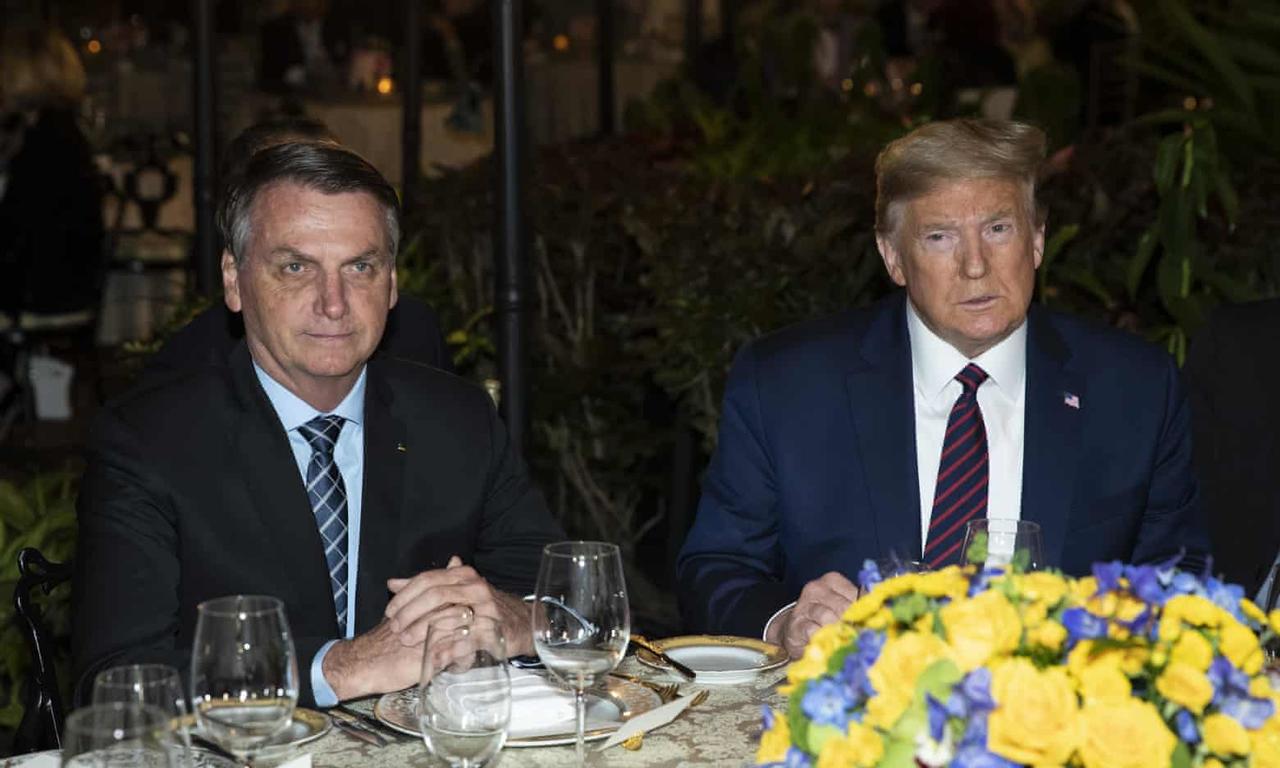 Local Brazilian media reports Bolsonaro will undergo a second COVID-19 test to confirm the first.
On Thursday some unconfirmed local reports began saying Bolsonaro had tested positive, but other sources denied what appeared premature speculation.
Journalist Glenn Greenwald writes of Friday's breaking Brazilian newspaper reports: "A reasonably reliable Brazilian newspaper is reporting, based on sources with first-hand knowledge inside the presidential palace, that Bolsonaro's first test was positive for COVID-19." He added that "A second more reliable test was performed; results available today."
BREAKING: #Brazil President Jair Bolsonaro Tests Positive for #CoronaVirus. He was in US and dined with Trump on Saturday, March 7.

He is highest ranking political leader to get COVID-19. https://t.co/1pm6YZ9wrT

— Joyce Karam (@Joyce_Karam) March 13, 2020
The Brazilian president's office has yet to comment on or confirm the new reporting early Friday.
Bolsonaro's son, Eduardo Bolsonaro, is vehemently denying the early Brazilian press reports, slamming them as "too much lies".
Major Brazilian newspaper O Dia broke the story Friday, with the paper saying his preliminary results came back Friday, according to sources within the Brazilian government.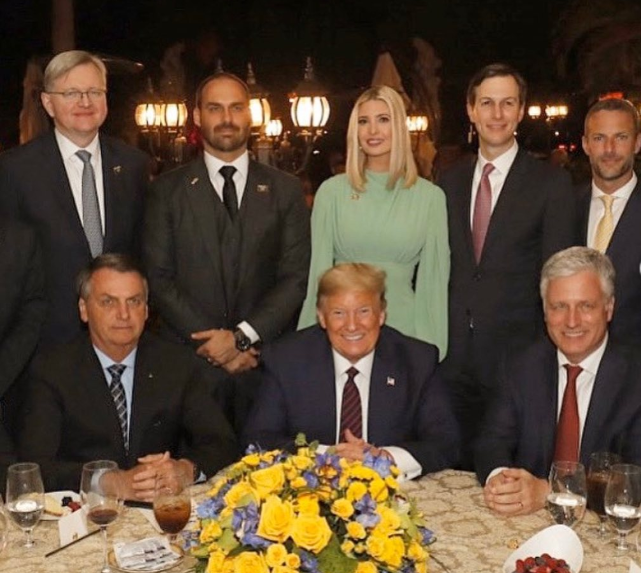 Likely this means the US president himself will now be closely monitored and tested, if not already.
Trump, shaking hands with the President of Brazil last Saturday. Bolsonaro has tested positive for coronavirus https://t.co/uuvaBwtmPr pic.twitter.com/WlTZtCDSbs

— Don Moynihan (@donmoyn) March 13, 2020
Bolsonaro and Trump were seen during the Brazilian delegation's visit shaking hands on multiple occasions, along with other cabinet members, including among Trump's own family.
developing...