---
China Forced To Revise Number Of Virus Cases Sharply Higher After Hubei Caught Undercounting New Infections
China's desperate attempts to manipulate coronavirus "data" lower to ease public fears about a runaway pandemic and get more people back to work, are crossing into the outright laughable, if not surreal.
As a reminder, earlier this week, China's Hubei province where the quarantined epicenter of the covid-19 epidemic, Wuhan, is located, once again changed the definition of a coronavirus "infection" in pursuit of a lower number of new cases by defining a case as "confirmed" if it stems from a positive result in a nucleic acid test, not if it was clinically diagnosed by physicians, a reversal of the definition change it adopted just  a week earlier which resulted in the biggest daily increase yet, when nearly 15,000 new cases were reported. Sure enough, this led to a plunge in new cases, with Hubei reporting just 411 new cases on Thursday and 349 new cases on Friday, sharply lower from the 1,000+ cases reported on previous days.
There is just one problem: at the same time as Hubei was priding itself in its sharp drop off in "confirmed" cases (carefully 'doctored' definition of new cases notwithstanding), a new breakout was been observed in the local Hubei prison system. And, problematically, for the brand new leadership of the Hubei Health Commission, it appeared that none of these cases were actually accounted for in the official province-level data.
Oops.
So what does Hubei do? Well, late on Friday the province which has now lost all credibility in the "data" it is reporting, was forced to once again revise the data, higher of course, to account for the "missing" prison cases.
Specifically, per a press release late on Friday, Hubei did the following:
It revised the number of new "confirmed" cases on Thursday upward to 631 from 411 after including 220 cases in the local prison system (source).
It revised the number of new "confirmed" cases on Wednesday upward to 775 from 349, after accounting for the previously unaccounted for cases in the local prison system (source)
And visually: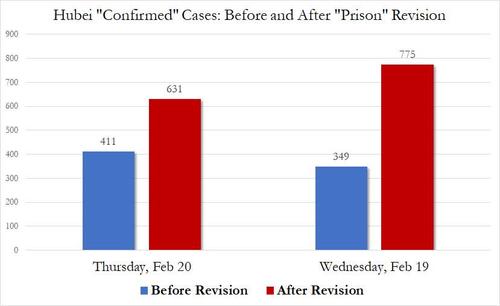 Then, just to make sure the confusion is complete, Hubei also said that in addition to prison cases that had been previously unaccounted for, the provincial health system said some cities of the province "had deducted from their Feb. 19 count the number of previously confirmed cases per the nation's revised guidelines published Feb. 18; their wrong method was discovered Feb. 20 and asked to stop."
As a result of all these changes, the cumulative number of total cases rose from 62,442 reported initially to 62,662 initially, and then one day later, the revision was from 62,662 to 63,008 for Feb 20.
For those curious, here is the original google-translated revisions from the Hubei website:
From 2 Yue 13 date, according to the National Health Commission Office of Health, the State Pharmaceutical Administration Office issued the "novel coronavirus pneumonia treatment program (Trial Fifth Edition)", Hubei Province, will be clinically diagnosed cases of confirmed cases were all included in the statistics Announcement and treatment. 2 Yue 18 , the National Health Commission Office of Health, the State Pharmaceutical Administration and the Office of the issuance of "novel coronavirus pneumonia treatment program (Trial Sixth Edition)", the fifth edition of the relative treatment program, the original clinically diagnosed cases in Hubei Province The category was cancelled. 2 Yue 19 days, some cities and states clinically diagnosed cases of early reports were revised according to the sixth edition of treatment programs, and subtract some of the confirmed cases. 2 Yue 20 Ri detection and timely stop this wrong practice. Now 2 Yue 19 the number of cases date back to re-add and subtract the confirmed cases, and the number of new cases of the day were revised. 2 Yue 19 Ri 0-24 , the province's new confirmed cases of 349 Li revised to 775 cases, the cumulative number of confirmed cases of the 62031 Li revised to 62 457 cases. Meanwhile, as of 2 Yue 20 Ri 24When the province's total number of confirmed cases from 62,662 revised cases were 63088 cases.
The bottom line is simple: anyone trusting any "data" from either Hubei in particular, or China in general, is a fool as each and every day is now an exercise in goalseeking cases to make it appears that China is regaining control over the pandemic but not at a rate that is too silly, which is what happened on the 19th, when all of China reported just 391 new cases, a laughable drop from the nearly 15 thousand new cases reported a week earlier.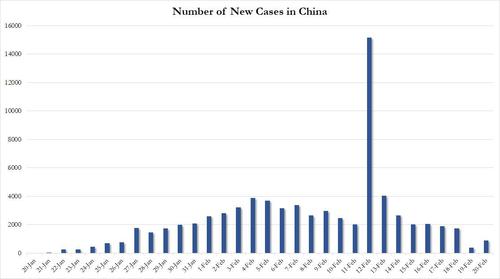 The goal is simple: restore confidence among the general population that Beijing has the disease under control.
The irony, of course, is that the more China manipulates the data, the less anyone will believe a positive outcome for the epidemic and will instead claim that this is just the result of Chinese propaganda: "It points to a rather concerning confusion over how best to officially report the number of cases, leading to a loss of confidence in the true numbers," said Jeffrey Halley, a Singapore-based senior market analyst with Oanda Asia Pacific Pte. "That could mean that internationally, the rest of the world keeps China in lockdown for longer, which will not be good for the 'V-shaped recovery' projections."
And so China's scrambles to goal seek its proapaganda number, the world's attention has shifted to what has emerged as the second coronavirus hotspot, that of Daegu in South Korea, where the number of cases is certainly not doctored, pardon the terrible pun, and where there is a truly exponential increase in new cases, which are now doubling with every passing day in a terrible, if accurate, representation of what indeed happens when there is a viral epidemic.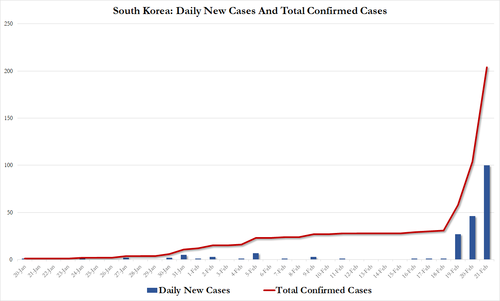 Needless to say, if the South Korea model is accurate, it is safe to say that as of this moment, there are tens of millions of infected Chinese, which however Beijing will keep a secret until it is unable to do so any longer. That moment may be approaching: as the Global Times reports, Wuhan, the epicenter of the novel coronavirus outbreak, plans to build another 19 makeshift hospitals to receive more infected patients, local authorities said Friday. Upon their completion, all the makeshift hospitals in Wuhan are expected to offer 30,000 beds on Feb. 25, said Hu Yabo, deputy mayor of Wuhan at a press briefing on epidemic prevention and control.
To date, Wuhan has converted 13 existing venues into temporary hospitals, with a total of 13,348 beds, and about 9,313 beds have been put into use to treat patients with mild symptoms, said Hu.
And in a bizarre twist, Hu added that to improve their medical treatment capability, every makeshift hospital will be supplied with CT scanners and other medical equipment including ECG monitors.
But wait, didn't Hubei just change the definition of an "infection" to remove those cases confirmed with a CT scanner? Why is Wuhan rushing to add those scanners if their "confirmation" of a case is irrelevant?
The answer of course, is obvious: there is an order of magnitude more cases in Hubei - and China - than is officially reported, although what that number is the world's population will likely never know and instead it will have to rely on proxy indicators such as what is going on in South Korea to get an accurate assessment of just how bad, and deadly, the coronavirus pandemic truly is.
One final point: according to the Global Times, about 72 medical teams from other regions of China have been dispatched to these temporary hospitals to aid local colleagues to treat patients and contain the virus spread. Would China be doing this if the epidemic in Hubei was about to be "contained"? We leave the obvious answer to our readers.