---
Governments Fast Reverting To Wartime Tactics & Rhetoric For Coronavirus
Authored by Jason Ditz via AntiWar.com,
A global pandemic of the coronavirus is hitting nations the world over, and facing a challenge unprecedented in recent history, officials are falling back on wartime tactics, and particularly rhetoric, with promises of grand emergency measures to try to keep things under control.
Emergency measures are mostly in the form of travel control, banning flights to and from certain places. There have been talks of mobilizing militaries, in practice efforts are centered on enforcing quarantines that were already declared. Deeper measures as yet don't seem to be happening.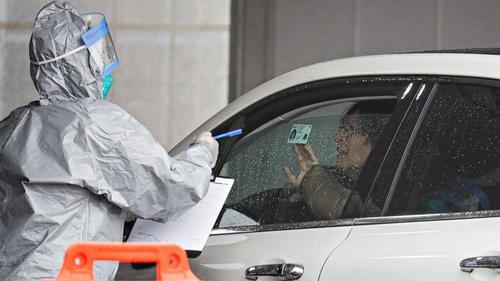 France's President Macron typified the rhetoric of the hour, saying that national greatness meant "women and men able to put the collective interest above all," while encouraging solidarity and fraternity.
In the US too this state of emergency is mostly just travel bans, though the Pentagon has halted domestic travel beyond local areas for both troops and their dependents. The US is also scaling back involvement in European operations to come.
Today, National Guard soldiers deployed inside New Rochelle's coronavirus containment zone will receive their operations order, issuing further instructors on how to proceed in the coming days. 

Currently, National Guard Military Police and other support units are inside the containment zone providing food and assisting with cleaning public areas inside the zone.

On Tuesday Gov. Andrew Cuomo of New York announced a one-mile containment zone around the Young Israel of New Rochelle synagogue in New Rochelle where there has been a cluster of COVID-19 cases. — Connecting Vets
The National Guard joined forces with Feeding Westchester to help prepare food for quarantined residents in #NewRochelle, NY #coronavirus #COVID2019 #CoronaVirusUpdates #covid19 pic.twitter.com/1iu2RzNeKW

— Reality Index (@Reality_Index) March 14, 2020
Those operations, a multinational exercise, was meant to be the biggest US involvement there in decades. Officials are now citing "health protection" as a reason to dial back involvement.
For the US, the military isn't exactly in a position to lead by example. In Afghanistan, the Pentagon is conceding that there are US troops with symptoms, but none have been tested. The reason why is simple: the Pentagon doesn't have tests to administer.