---
Ivy League Cancels All Fall Sports On Pandemic Fears Through 2020
Another coronavirus-related bombshell this week: after Harvard announced its Fall semester is going to online instruction only, with only 40% of students invited back to live on campus, the Ivy League on Wednesday announced the suspension of all Fall sports.
It's the first Division I conference to make the drastic move nixing football and all other collegiate sports over fears of the coronavirus pandemic. It plans to hold no competitions until after January 1.
"We simply do not believe we can create and maintain an environment for intercollegiate athletic competition that meets our requirements for safety and acceptable levels of risk," the Ivy League Council of Presidents explained in a statement.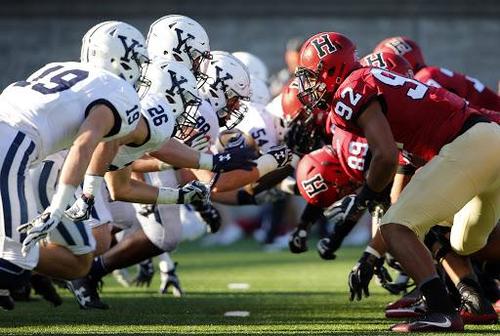 The league has left open the possibility of transferring the sports, especially football, to the Spring semester contingent on COVID-19 numbers significantly declining.
"We are entrusted to create and maintain an educational environment that is guided by health and safety considerations. There can be no greater responsibility — and that is the basis for this difficult decision," it said.
The suspension of games includes football, soccer, volleyball, cross country, field hockey and even later fall into winter sports like basketball.
Meanwhile, there's already pressure for all other divisions and college leagues to follow suit:
U.S. Sen. Richard Blumenthal (D-Conn.) called on other leagues to follow the Ivy League's lead again.

"There's absolutely nothing different between the Ivy League and any division except for the money, to be very blunt," he told USA Today Sports. "It's about the money. And if the other schools fail to follow the Ivy League's lead, it will be only because of the money. And, in fact, it will be another misguided act in a long litany of putting school profits ahead of the people who play for them."
The Ivy League is officially the first conference to postpone fall sports — just like it was the first conference to cancel its conference tournament back in March. Last time, everybody else followed the Ivy's lead. So it'll be interesting to see if the same thing happens again.

— Gary Parrish (@GaryParrishCBS) July 8, 2020
It remains that colleges and universities across the nation are stuck in a devastating financial limbo when key staffing, faculty contracts, student recruiting, tuition and donor revenue-related decisions are still up in the air, also as controversy continues over refusal to refund student housing and campus activity fees. 
The $600 billion-plus higher education industry is expected to suffer effects of the spring and summer campus shutdowns at least through next Fall, given everything down to campus tours for potential recruits have been canceled, leaving open the crucial question of incoming levels of freshmen and vital tuition revenue for next year. And now it's not a question of profitability, academic reputation or long-term growth, and for many outside the Ivy League, survival.
However Ivy League schools, with their massive endowments, clearly have a cushion softening the blow of a drastic move like canceling Fall sports. The vast majority of schools don't.
The cancellation of sports appears to be the next blow aiding the rapid downward spiral of institutions of higher learning across the nation.