---
Scientists Discover More Aggressive Strain Of Coronavirus Responsible For 70% Of Current Infections
Chinese scientists studying the new coronavirus have found two new primary strains of the disease - one of which appears to be far more aggressive.
The researchers, from Peking University's School of Life Sciences, discovered a milder "S-type" strain, and an "L-type" which is highly infectious and currently accounts for around 70% of cases, according to The Telegraph. The researchers cautioned that their preliminary findings looked at a limited number of cases (103), and that follow-up studies with larger data sets are needed to better understand the virus's evolution.
A genetic analysis of the coronavirus found in a man who tested positive in the United States on January 21 also showed that it's possible to be infected with both strains.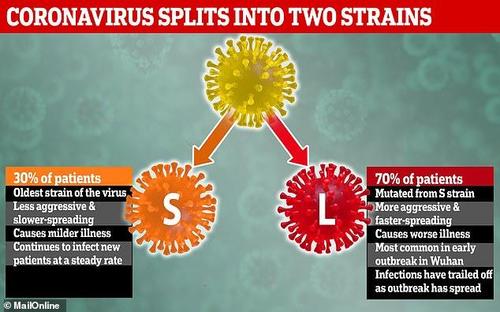 Coronavirus, which was first detected in December 2018 in Wuhan, China, has infected at least 94,000 people - officially, and killed more than 3,200 as of this writing.
And while there are now two major strains identified, scientist Trevor Bedford of Nextstrain has been tracking 161 strains of SARS-CoV-2 (the virus that causes COVID-19) in patients across the globe.
Bedford writes in a March 2 blog post that "The novel coronavirus which is responsible for the emerging COVID-19 pandemic mutates at an average of about two mutations per month."
Visualize the virus radiating out from China, mutating as it spreads.

Right: map with different strains color-coded
Left: phylogenetic tree, showing how individual strains mutate and diverge

Very impressive work by @trvrb and the group at Nextstrain. https://t.co/p3wkhvtDPL pic.twitter.com/BuoxBaW81A

— Balaji S. Srinivasan (@balajis) February 28, 2020
Here is his latest situation report, and thread on the virus which provides a detailed analysis of what mutations have been found, and where (click the tweet to jump into the thread):
Thus, I believe, similar to the case in Washington State (https://t.co/8wWxtiotE3), we had a situation in which a cluster was identified via intensive screening of travelers, but containment failed shortly thereafter and a sustained transmission chain was initiated. 6/7

— Trevor Bedford (@trvrb) March 4, 2020