---
Suicide Rates Are Surging Around The World
Yesterday, November 19, was International Men's Day and in 2019, the theme is "Making a Difference for Men and Boys".
The focus of the day is to "promote the need to value men and boys and help people make practical improvements in men and boy's health and well-being," Sadly, as Statista's Martin Armstrong details in the chart below, suicide rates among men are significantly higher in most countries around the world.
You will find more infographics at Statista
Of the 25 looked at here, the World Health Organization estimates Russia to have by far the highest rate among men, at 48.3 cases per 100,000 population in 2016. For women, India has the highest rate, with 14.5 cases.
There are some exceptions however.
In China, the rate for women is 8.3 while for men it is 7.9.
While the US ranks 7th overall in the world,  suicide rates are at their highest since World War II, according to federal data and the opioid crisis, widespread social media use and high rates of stress may be among the myriad contributing factors.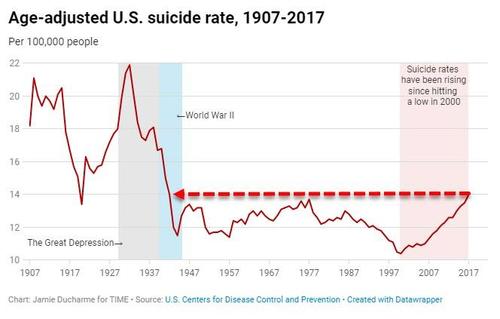 In 2017, 14 out of every 100,000 Americans died by suicide, according to a new analysis released by the Centers for Disease Control and Prevention's National Center for Health Statistics. That's a 33% increase since 1999, and the highest age-adjusted suicide rate recorded in the U.S. since 1942.