---
At US Epicenter: NY Parks Bustle, Subway Packed, Social Distancing Defied & Flaunted
New York's explosion of confirmed coronavirus case numbers over the past several days — with the state's total at 37,258 cases, with 5,327 currently hospitalized, and 1,290 patients in the ICU — 20,011 among these in New York City alone, is downright scary.
This makes the below scenes of 'brave' New Yorkers still willing to go about their daily lives oblivious to the 'apocalyptic' surge in hospitalizations from the virus all around them in what's clearly become the nation's epicenter all the more stunning and arguably reckless.
Despite #coronavirus restrictions, NYC subway cars are still PACKED. This video, taken YESTERDAY, shows passengers in an overcrowded train with little evidence of social distancing https://t.co/7ZtPXNuiTS pic.twitter.com/ME5tSPIvWu

— ABC7 Eyewitness News (@ABC7) March 25, 2020
Case in point: the New York subway has proudly never completely shut down in the over century of its existence, though it's this week reduced service as rising numbers of MTA employees catch Covid-19, but maybe it's time for drastic action given the above scene.
Some took to social media to argue that trains are getting packed because the MTA doesn't have enough personnel to run more, also as the newly announced 25% reduction in service goes into effect, creating a more dangerous situation.
D train this morning. Even more crowded. pic.twitter.com/XkFs9Ov0F1

— socially distant vaper (@victor_mifsud) March 25, 2020
Despite Gov. Andrew Cuomo's issuing a 'stay at home' order for New Yorkers, which further mandates any businesses not deemed "essential" keep their employees at home, there are plenty this week willing and ready to defy those orders. 
People have to go to jobs still operating under the 'essential' exemption, yet by all appearances there's still been examples of of deniers and disbelievers gathering around the city, determined to carry on with daily routines.
Hordes of locals apparently took the 'stay at home' mandate as an opportunity to soak up the sun at public parks and to catch up on team sports, while often ignoring the 6-feet distance advisory.
New York City is now the center of the worst COVID-19 outbreak in the United States, but @Gothamist reports that it hasn't stopped people from crowding city parks, even right outside the mayor's home. https://t.co/mo4nDbXt9v

— NPR (@NPR) March 25, 2020
Cuomo seemed to anticipate this when he earlier said: "This is not life as usual. Accept it, realize it, and deal with it." 
Another case in point Wednesday, at a moment New York accounts for roughly half of all US Covid-19 cases:
NYPD disperses Hasidic crowds at Brooklyn Yeshiva amid coronavirus outbreak https://t.co/GaNcp7Wh9s pic.twitter.com/FbBk8Dg9Be

— New York Post (@nypost) March 25, 2020
"The NYPD dispersed crowds of Hasidic Jews who showed up to get free food at a Brooklyn Yeshiva amid the coronavirus outbreak in New York on Wednesday afternoon, police said," according to The New York Post.
"The free-food offer at the Yeshiva on Keap Street near Division Avenue in Williamsburg drew long lines of people from the community when they opened their doors from 9 a.m. to 11 a.m., police said," according to the report.
"All of those people, in such a small space, appear to have helped the virus spread rapidly through packed subway trains, busy playgrounds and hivelike apartment buildings, forming ever-widening circles of infections" https://t.co/kFnP2HDxZG via @brianmrosenthal

— Phillip Carter (@Carter_PE) March 24, 2020
NYC Mayor Bill de Blasio has so far resisted calls to close public parks, playgrounds, and popular promenades, but said the issue may have to be revisited in coming days.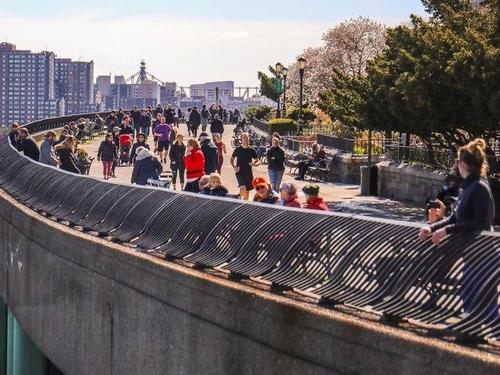 "The promenade was more crowded than any other park I've been to these last few days: Central Park, Washington Square Park, McCarren Park, Domino Park. More crowded than any street I've been to," Gothamist photographer Scott Lynch said in a Wednesday report.
"Even taking into account couples and families, who naturally are going to bunch together, the six-feet rule was flaunted left and right," he added of still bustling scenes in the city's public spaces.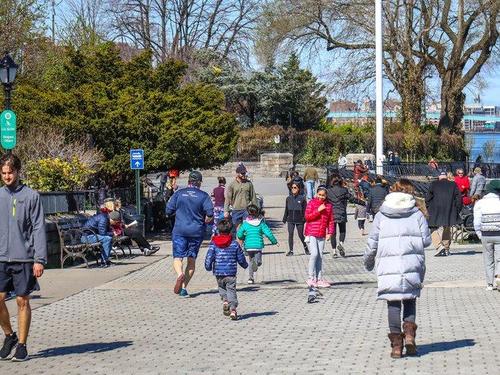 Farmer's markets were still bustling as of this past weekend and are still in most states with 'emergency' declarations and restrictions considered 'essential'. 
Gov. Cuomo at the start of the week slammed what he called "arrogant" New Yorkers for continuing to ignore social distancing guidelines, though generally main streets have largely emptied of traffic since he lashed out with those words.
Brooklyn's McCarren Park is bustling even as the state goes "on pause" over coronavirus.

"It's kind of stupid," a Greenpoint resident said. "I wish people would take it more seriously. Unless they act on closing parks, people will just keep coming."https://t.co/peRw81tTUE

— New York Daily News (@NYDailyNews) March 21, 2020
But some swelling crowds have been unintentional and perhaps unavoidable:
Twice in the past week, police officers have had to manage the large crowds waiting for delivery and takeout orders outside Major Food Group's famed fancy restaurant Carbone in Greenwich Village
"You're not superman and you're not superwoman, you can get this virus and you can transfer the virus and you can wind up hurting someone who you love or hurting someone wholly inadvertently," Cuomo said in the middle of the week.
"It has to be stopped," the governor urged.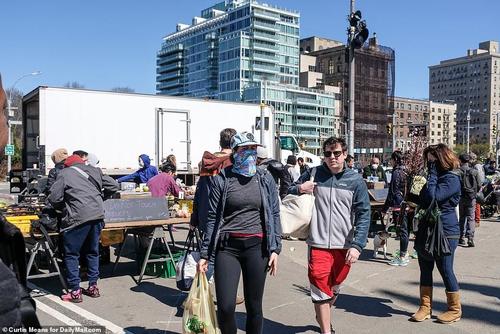 Now that case numbers are exploding nationwide, expected to reach 70,000 by Friday morning, it's likely even public parks across New York and elsewhere will begin to thin out. 
The average American will tend to brush off numbers in the 'thousands' - but with the potential of hitting six figures in terms of confirmed infections in the coming days and weeks, the catastrophic crisis will at that point be impossible for anyone to ignore.