---
10Y Yields Cross The "Tipping Point"
As 10-year TSY yields briefly touched 1.75% this morning in the wake of Wednesday's FOMC, an overnight note from Zoltan Pozsar predicting the end of SLR relief, and a report by the Nikkei noting that the BOJ would allow long-term interest rates to move in a slightly larger range of about 0.25%, versus 0.2% now...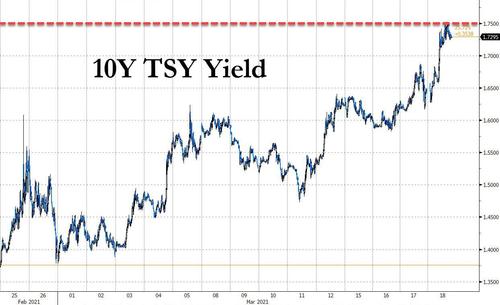 ... Newsquawk notes that recent commentary from Bank of America - previously discussed here - is again being circulated by traders.
As a reminder, Bank of America warned that 10-year yields at 1.75% was the level where correlations between risky assets and rates begin to change empirically, and 10-year yields above that level could become a headwind for the equity complex. As BofA strategist Savita Subramanian wrote "history suggests that 1.75% on the 10-yr (the house forecast and ~25bp above current levels) is the tipping point at which asset allocators begin to shift back to bonds" and thus sell stocks in the next wave of aggressive liquidations.
Why 1.75%? Because that yield on the 10Y is decisively above the S&P's dividend yield, and where according to BofA "there is an alternative to stocks", or TIAA.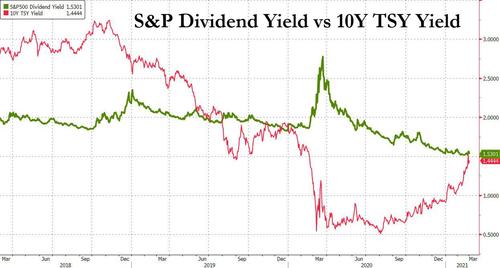 Separately, in its fund manager survey, Bank of America found that while few believed that rates at 1.5% would cause an equity correction (which they did as Nomura originally predicted one month ago), the move from 1.5% to 2% is critical as 43% of investors now think 2% is the level of reckoning in the 10-year Treasury that will cause a 10% correction in stocks.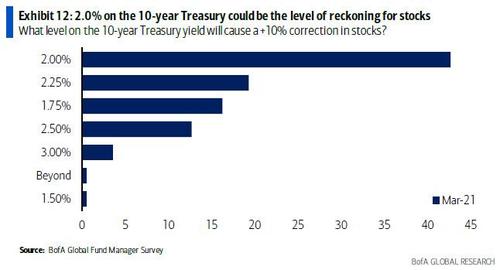 Not everyone is apocalyptic: other, more bullish, analysts have said that equities can tolerate a higher yield environment and  over the weekend, Goldman Sachs chief equity strategist David Kostin reiterated its view that equity valuations relative to yields are still attractive, noting that markets are pricing a forward p/e of 22x for the S&P 500 (implying earnings yield of around 4.5%). Furthermore, Goldman said that the equity complex should be able to digest 10-year yields rising towards 2.0% (and above), since the gap between 10-year yields and the S&P 500 earnings yield would then be around 250bps, close to its 45-year average.
Then again, Goldman has been wrong about virtually everything in recent years so take the bank's optimism with a metric ton of salt.