---
11-Sigma: NY Fed Mfg Survey Smashes Expectations With Biggest New Orders Surge In History
While normally the New York Fed manufacturing index does not get much attention (or at least hasn't in the six months when it was consistently bearish, printing in contractionary, negative territory ever since November) today's print was nothing short of a blockbuster - and will certainly get lots of airtime - because just as the economy careens into a recession which even the Fed now explicitly wants, the fine economists at the NY Fed reported that their April number for the Empire Fed Mfg index not only soared from March's -11.5 - a number which consensus estimated would drop to -18.0, to 10.8, some 20 points above the highest forecast, but was at the highest (expansionary) level since July 22!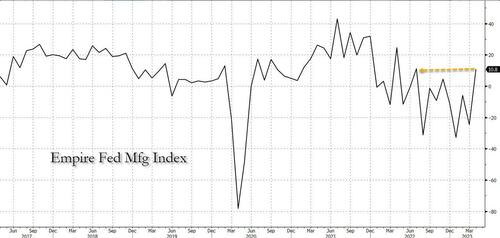 Remarkably, this was the second biggest beat to expectations in history, blowing away the top end of the range which was nowhere close (forecast range -25.0 to -11.5 from 34 estimates, median est. -18 ) with just the June post-covid era expectation-smashing 29.4 print higher than what was seen in April.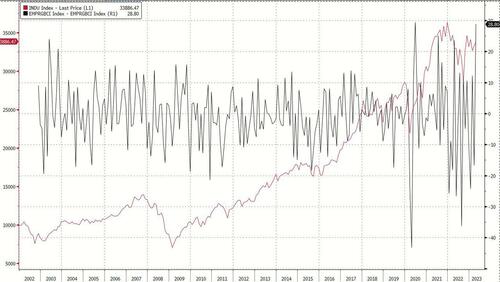 For those wondering, this was a 11 sigma beat to the consensus median.

Here are the components of the Empire Fed, where the Prices Paid index (a proxy for sticky inflation) tumbled from 41.9 to 33.
General business conditions were -24.6 in the last month

Prices paid fell to 33 vs 41.9

Prices received rose to 23.7 vs 22.9

Number of employees rose to -8 vs -10.1

Work hours rose to -6.4 vs -18.5

Inventory rose to 8.2 vs -1.9

Six-month general business conditions rose to 6.6 vs 2.9

Report released by the New York Federal Reserve
The most remarkable change, however, was in the New Orders number which exploded from a negative 21.7 to a positive 25.1, the single biggest monthly increase in history!
Commenting on today's data, the NY Fed said that "business activity increased in New York State for the first time in five  months: the headline general business conditions index shot up thirty-five points to 10.8. New orders and shipments surged. Delivery times held steady, and inventories moved higher.  Despite the increase in activity, both employment and hours worked declined for a third consecutive month. Input price increases moderated, while selling prices increased at the same pace as last month.
However, not all is well just yet: looking ahead, businesses continued to expect little improvement in conditions over the next six months, suggesting that this may be just one more in an ever growing list of economic releases that has been scrubbed for political reasons.
Turning back to the survey, 35% of respondents reported that conditions had improved over the month, and twenty-four percent reported that conditions had worsened. The new orders index rose a whopping forty-seven points to 25.1, and the shipments index climbed thirty- seven points to 23.9, indicating that both orders and shipments increased substantially after declining in recent months. The unfilled orders index rose to 0, a sign that unfilled orders were unchanged. The delivery times index also came in at 0, indicating that delivery times held steady. The inventories index moved up ten points to 8.2, suggesting that inventories grew modestly.
There was some additional if modest, weakness:
The index for number of employees remained negative for a third consecutive month at -8.0, and the average workweek index held below zero at -6.4, indicating that employment and hours worked shrank. The prices paid index fell nine points to 33.0, indicating that input price increases moderated. The prices received index held steady at 23.7, suggesting the pace of selling price increases was little changed

Firms Not Very Optimistic

The index for future business conditions edged up to 6.6, suggesting that firms do not expect activity to improve much  ver the next six months. New orders and shipments are expected to ncrease modestly, and employment is expected to grow. The capital spending index rose three points to 16.5, and the technology spending index came in at 10.3.
Overall, this was a shockingly strong report; however, the Empire Fed survey is well known for being completely unrelated to core data, and has traditionally been associated with headfakes and false starts. Stocks, however, aren't taking any chances and risk dipped while odds of a May 25bps rate hikes rose that much more and were last seen at 86%.
Loading...