---
$138 Billion Bridgewater Set Up 50 "Tent Offices" In The Woods Outside Of Its HQ For Its Traders
In keeping with a bizarre string of decisions (or lack of decisionmaking, as we pointed out) that could be at the heart of Bridgewater's awful -18.6% YTD performance so far this year, would it surprise you if we told you the fund manager was setting up office tents in the middle of the woods for its employees?
Well, apparently, that's exactly what the company did. The $138 billion hedge fund now has tents set up in the woods across from its Westport, Conn. headquarters so that its traders can "continue to work from their desks" while also "breathing fresh air," according to the NY Post. 
The tents were set up in May and can accommodate about 50 of Bridgewater's 1,500 staff members. They were set up because indoor safety protocols for Covid were deemed to be too stressful. The result, according to Nir Bar Dea, cohead of Bridgewater's investment engine? Chirping birds that can disrupt calls and at least one falling tree.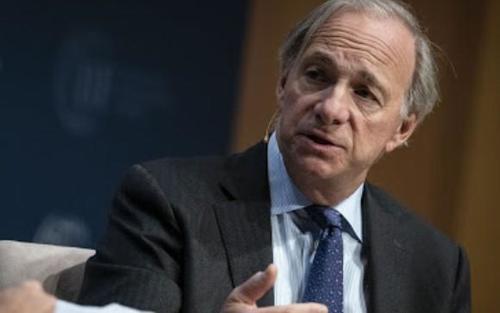 "We're sitting outside—that's never been a part of our plans," Bar Dea, who has likely already been fired for talking to the press, told Fortune. Bridgewater is going to keep the setup through October or "until the weather gets too cold to comfortably work outdoors," Bar Dea continued. 
Perhaps Bridgewater should stop doing its best Bear Grylls impressions and start focusing more on its returns. We noted just days ago that it has been an ugly year, performance-wise, for Ray Dalio.
In addition to the fund's worst losses in a decade, there is a "sprawling list of troubles" being dealt with internally, according to Bloomberg. These trouble include internal computer models misreading the market (also known as the New York Fed model), $3.5 billion in redemptions during the first 7 months of the year and Dalio losing an arbitration fight with ex-staffers.
He also has ongoing feuds with his co-chief executive and has laid off "dozens" of employees, according to the report. 
And what changes has Dalio made to adjust, aside from tents in the woods? Apparently none. 
"We are operating in the same way we have always operated," he told Bloomberg TV. Dalio says the firm still has 45 commitments from investors, many around $1 billion.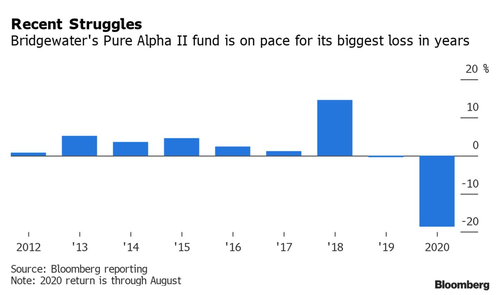 The firm's key issue, according to insiders, was that it adopted a risk off strategy in March while the market was tanking, and then failed to put risk back on despite the Federal Reserve guaranteeing it would backstop the market with unlimited QE. 
Former employees say that the fanfare surrounding Dalio has also "distracted him from the firm". Dalio doesn't want to adjust his computer models to add new data that's standard at other firms, including tracking oil tankers. 
Bridgewater has cut dozens of jobs amidst the chaos and its number of investors has dropped from 350 to about 300. Clients that remain on the roster tout the firm's 10.4% annualized gain since 1991 - and its "unparalleled customer service". 
Given his fund's performance this year, we can't help but think: Maybe Dalio needs a little more time in solitude in the woods himself, perhaps to do some "deep thinking"...