---
20 Women Sexually Abused At Jeffrey Epstein Properties Were Paid Through JPMorgan Accounts: Filing
Authored by Zachary Stieber via The Epoch Times (emphasis ours),
At least 20 women who were victims of sex trafficking and sexual abuse at Jeffrey Epstein properties were paid through JPMorgan Chase accounts, according to a new court filing.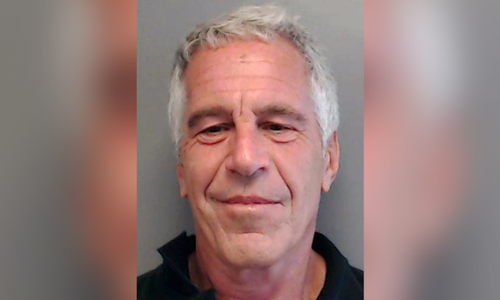 The women were allegedly abused and trafficked at properties in the U.S. Virgin Islands, New York, and elsewhere between 2003 and 2019.
The women received payments that totaled, collectively, more than $1 million, according to the U.S. Virgin Islands Department of Justice, which entered the filing on Feb. 15.
"Epstein also withdrew more than $775,000 in cash over that time frame from JP Morgan accounts, especially significant as Epstein was known to pay for 'massages,' or sexual encounters, in cash," the filing states. "Financial information also reflects payments drawn from JP Morgan accounts of nearly $1.5 million to known recruiters, including to the MC2 modeling agency, and another $150,000 to a private investigative firm."
Epstein was facing sex trafficking charges when he died in jail in 2019. New York City's medical examiner ruled the death a suicide. Epstein had pleaded guilty to soliciting a minor for prostitution in Florida in 2008.
Then-U.S. Virgin Islands Attorney General Denise George brought a case against JPMorgan Chase in late 2022, alleging the company helped Epstein carry out crimes including sex trafficking. George was fired shortly after, but the case is moving forward.
The new filing is a less redacted version of the first amended complaint, which had been entered into the docket previously.
'Extremely High-Risk Client'
Evidence shows JPMorgan officials were aware Epstein was an "extremely high-risk client" but decided to keep servicing his accounts "because of his vast wealth and connections with other high net worth individuals," according to the complaint.
The company's global corporate security division, for instance, reviewed media articles that detailed the charges against Epstein in Florida. JPMorgan decided to keep doing business with Epstein, though it did label him as "high risk."
In a 2010 internal email, the division flagged "new allegations of an investigation related to child trafficking" and wondered, "are you still comfortable with this client who is now a registered sex offender."
In January 2011, the company's compliance director asked for reapproval of the relationship due to the new allegations of human trafficking. "I thought we did that in approving a $50 million new line of credit last month?" another employee responded.
A review completed that month led to the conclusion that no "material updates" had been identified. It also noted that Jes Staley, a top JPMorgan official, had spoken with Epstein about the alleged human trafficking. Epstein said there was no truth to the allegations or evidence supporting them.
Just two months later, the security division reported how Epstein had settled a dozen lawsuits with alleged victims and that Epstein was connected to Jean Luc Brunel, owner of the MC2 Model Management agency. The agency received $1 million from Epstein in 2005, according to the vision, which stated, "It is unknown if the money was given as a secret investment or payment for services as a procurer."
Read more here...
Loading...