---
20,000 Robinhood Traders Are In For Rude Surprise As CBL Prepares To File Chapter 11
Bloomberg reports mall operator CBL & Associates Properties Inc. is preparing to file for bankruptcy. The headline hit after hours on Friday, sinking shares by at least 20%.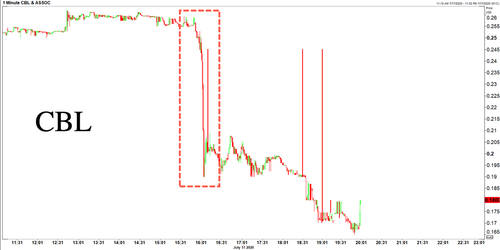 Sources told Bloomberg the company "has been negotiating with its lenders in an effort to enter Chapter 11 with a consensual restructuring agreement in place...the plans aren't final, and elements could change."
CBL's portfolio has 108 properties totaling 68.2 million square feet across 26 states. Many of the properties are classified as "Class B malls," supported by a middle-market customer base that has been crushed by the virus-induced recession.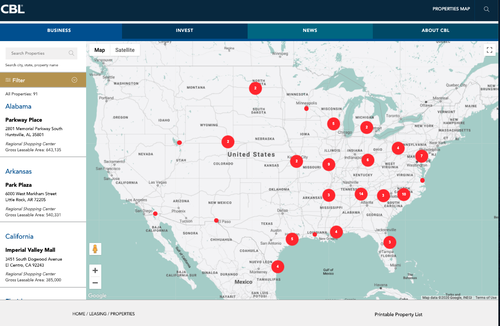 CBL fired a warning shot on June 5 and said tenants across 108 of its properties paid just 27% of April's rent. The loss of rental income forced the mall operator to skip interest payments due on $3 billion in debt. On July 16, it entered forbearance agreements with debt-holders concerning 2023 and 2026 notes. 
CBL bonds maturing in 2023 traded a bid/ask around 24.6 to 25.4 cents on Friday, according to the latest bond quotes via Refinitiv. 
When CBL files, it would mark the largest commercial real estate bankruptcy of the pandemic. Thousands of stores are closing this year, further accelerating retail apocalypse, expected to be a record year. 
Meanwhile, Robinhood daytraders, with no concern about the unprecedented surge in new CMBS delinquencies, have been panic buying CBL shares. From the start of lockdowns (mid-March), new account holdings surged from 8,000 to more than 20,000 on Friday, a 1.5x increase in four months.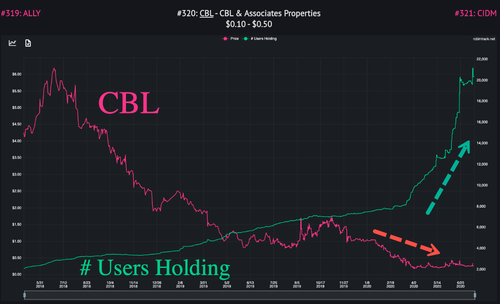 Come Monday morning, thousands of Robinhood traders who panic bought, yet another bankrupt company, are going to be transformed into instant bagholders.