---
"2023 May Be A Disinflationary Year... Rates Close To Restrictive": Stocks Jump After Unexpectedly Dovish Bullard Comments
Is the Fed finally starting to turn dovish?
In a speech some commentators likened to a "major jawbone pivot", moments ago St. Louis Fed President James Bullard delivered a presentation at an event hosted by CFA Society St. Louis and said interest rates are getting closer to a high enough level to bring down inflation, suggesting he's not only comfortable with policymakers' projections of how much further they will hike this year, but that the Fed may in fact declare "mission accomplished" soon with regard to inflation.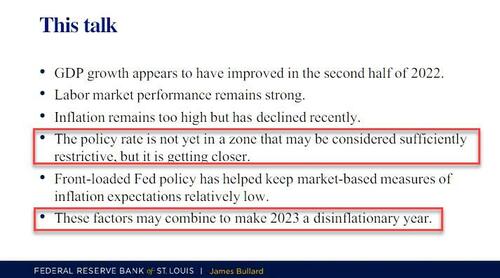 Bullard pointed to optimistic signs that price gains could slow further this year and that the central bank may succeed in taming the strongest inflation in a generation.
His remarks stopped short of hammering home the hawkish tone he delivered through much of last year, when he was ahead of peers in advocating for the US central bank to take more aggressive moves to cool prices, and he certainly sounded far more dovish than his always wrong colleague Neel Kashkari who yesterday indicated the Fed should rise to a 5.4% terminal rate and hold there for some time.
"The policy rate is not yet in a zone that may be considered sufficiently restrictive, but it is getting closer," Bullard said in the slide deck, and noted that "it now appears that the policy rate will move into the sufficiently restrictive zone during 2023."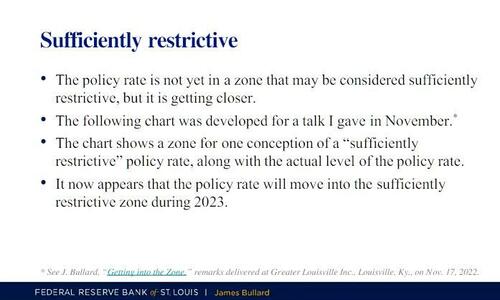 Indeed, as noted below, a chart in his presentation suggested that Fed officials' median projection for where rates will end this year, at 5.1%, is in the territory of being restrictive enough to rein in inflation.
While Bullard's presentation didn't specify how high he prefers rates to rise or indicate whether the Fed should again slow its pace of rate hikes at the next meeting, a chart in his presentation showed a bound determined by a "generous Taylor-type rule" according to which the Fed views restrictive as a rate below 5%.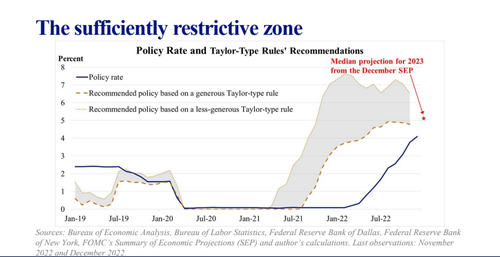 The St. Louis Fed chief said the central bank's actions have helped to lower inflation expectations to a level "consistent with the Fed's 2% inflation target." He said he also sees inflation falling to a lower level this year as the economy "normalizes."
"In part due to front-loaded Fed policy during 2022, market-based measures of inflation expectations are now relatively low" Bullard said, adding that "according to standard macroeconomic theories, inflation expectations are a key determinant of actual inflation."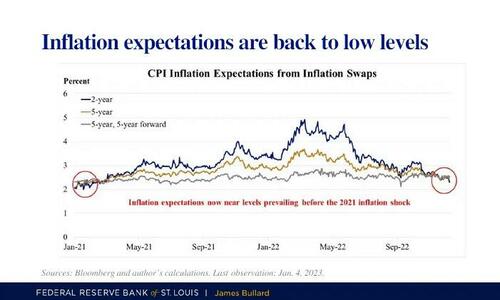 But perhaps most important was Bullard's admission that 2023 may be a year of disinflation: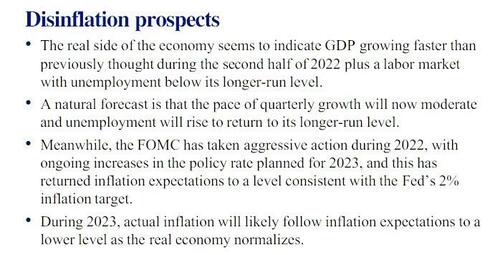 Bullard's comments, a surprising reversal from his recent hawkish perspective, promptly a modest jump in the market, lifting spoos by about 20 points.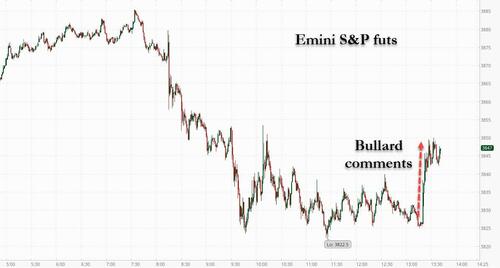 Last month the Fed raised rates by a half point, slowing down after four straight 75 basis-point hikes while extending the most aggressive tightening campaign since the 1980s, and previewing more hikes in the future and forecasting policy which they expect to remain tight this year, with 17 out of 19 officials projecting rates above 5% by the end of 2023. No Fed official forecast rate cuts this year, even as the market anticipates no less than 50bps of rate cuts by the end of 2023.
Minutes of the Fed's Dec. 13-14 meeting, released Wednesday, showed that policymakers last month affirmed their commitment to bringing down inflation. Officials also warned against an "unwarranted" loosening of financial conditions, which suggested frustration that markets could undermine their efforts to tame prices.
Bullard's dovish hint stands against a backdrop of the usual hawkish commentary: this week, several Fed officials reiterated their concerns that inflation is still too high, with Kansas City Fed President Esther George saying earlier Thursday that she sees the federal funds rate remaining above 5% well into 2024.
"I see staying there for some time, again, until we get the signals that inflation is really convincingly starting to fall back toward our 2% goal," George said Thursday in an interview on CNBC television. That followed remarks from Atlanta Fed President Raphael Bostic that inflation is still "way too high" and remains the biggest headwind in the US.
"I appreciate recent reports that include signs of moderating price pressures, but there is still much work to do," he said at a Fed conference in New Orleans Thursday.
On Wednesday, Minneapolis Fed President Neel Kashkari said that he projects rates will rise to 5.4%.
Bullard's full presentation can be found below (pdf link).
Loading...