---
The 2024 Dots Take Center Stage
By Ven Ram, Bloomberg Markets Live reporter and cross-asset strategist
Both front- and back-end Treasury yields look set to build on their recent increase as the Federal Reserve seems to have little incentive to stoke a premature loosening of financial conditions.
Treasury traders will be riveted on what policymakers pencil in for 2024 via the dots to the exclusion of pretty much everything else that we hear from the Fed on Wednesday.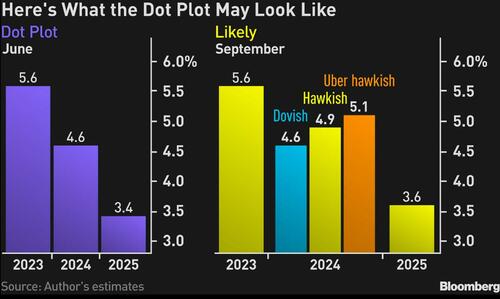 Two-year yields are nearing their cyclical highs as investors prepare for a hawkish dot plot. Here's what will move the markets and how: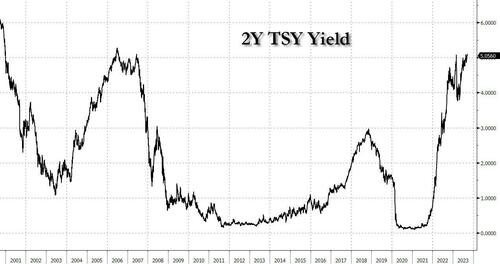 Decision and bias:
There's virtually zero expectation for the Fed to raise rates, so investors will parse the Fed's statement for immediate clues on its thinking. The key to the market reaction will be whether it will explicitly acknowledge a need for additional tightening
Other than that, the statement is likely to be more or less unchanged from the July meeting.
Summary of economic projections:
The Fed had estimated in June that the unemployment rate will tick up to 4.1% this year and to 4.5% next year. While the latest reading was 3.8%, the average has been 3.6% this year, which is near as low as it has traditionally been. The Fed is, therefore, likely to acknowledge the strength of the labor market and revise lower its jobless rate for both this year and next
The Fed is also likely to revise higher its inflation forecasts for 2024 given that the super core gauge is still holding above 4%.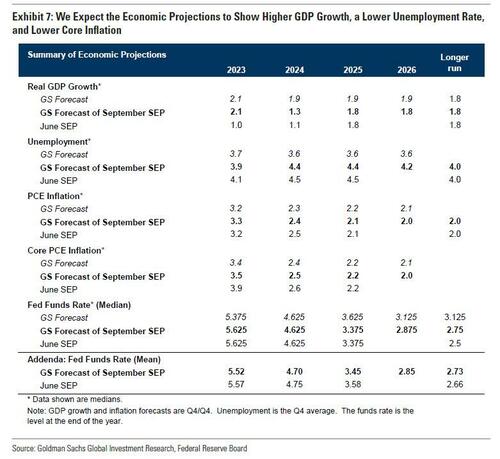 Dots, dots, dots:
Given those revisions, I expect the dot plot for 2024 to show reduced scope for rate cuts. In its June estimates, the dots showed that policymakers expected a full percentage point of reduction, though the Fed is more likely to indicate three cuts, given labor market strength and resilience inflation.
Chair Jerome Powell is likely to push back on the notion of quick rate cuts in his post-meeting remarks too.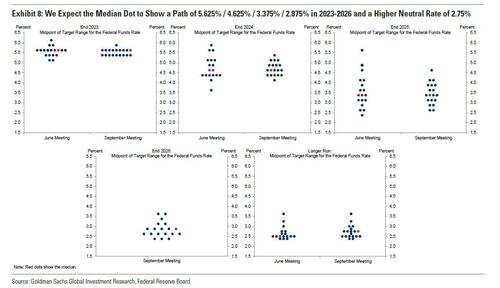 More in our full preview available here
Loading...