---
2Y Treasury Yields Plunge Most Since 'Black Monday', Gold Soars As Rate-Hike Odds Collapse
The Fed/FDIC/TSY bailout (BTFP!?) has prompted a massive repricing of the market's expectations for The Fed's rate-trajectory from here.
The terminal has plunged and pulled forward...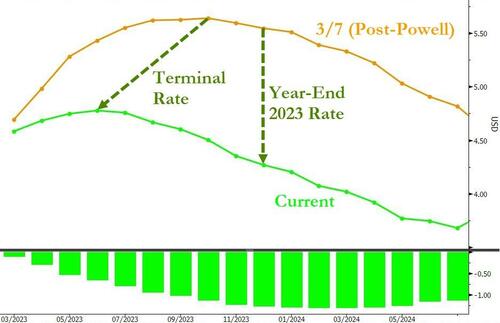 Source: Bloomberg
After Goldman's forecast that The Fed will pause in March (next week), the odds of a 25bps rate-hike have dropped to 80% (from a 75% chance of 50bps on Wednesday after Powell's hawkish comments)...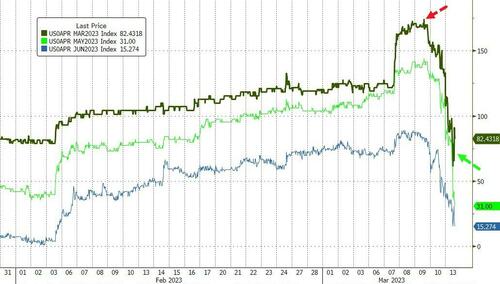 Source: Bloomberg
The market now expects rates to be lower than they are now by September...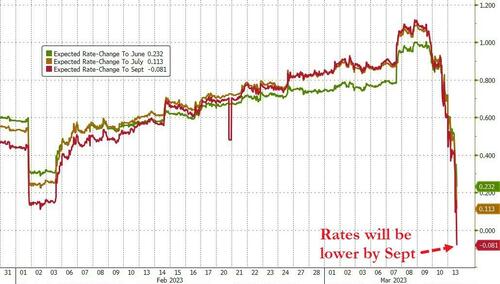 Source: Bloomberg
All bond yields are lower overnight, led by the short-end...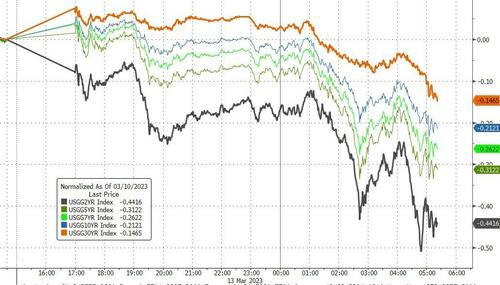 In fact, the 2Y TSY yield is down almost 100bps in the last three days...
The biggest 3-day drop since 1987's "black monday"...
Source: Bloomberg
This has steepened the yield curve dramatically (2s10s now at 2023 highs)...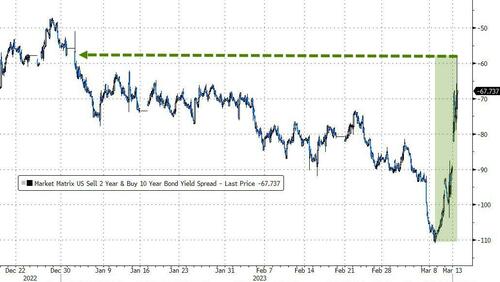 Source: Bloomberg
...and that is the straw that breaks the model camel's back on a recession warning.
Against all that, Gold is soaring, with futures testing $1900...
We leave you with the conclusion from The Wall Street Journal's Editorial Board's post-mortem: "critics have a point. For the second time in 15 years (excluding the brief Covid-caused panic), regulators will have encouraged a credit mania, and then failed to foresee the financial panic when the easy money stopped. Democrats and the press corps may try to pin the problem on bankers or the Trump Administration, but these are political diversions. You can't run the most reckless monetary and fiscal experiment in history without the bill eventually coming due. The first invoice arrived as inflation. The second has come as a financial panic, with economic damage that may not end with Silicon Valley Bank."
Loading...