---
30 People Shot, 2 Dead As Block Party In Baltimore Turns Into 'War Zone'
Thirty people were injured, two fatally, during an overnight mass shooting at a block party in southern Baltimore City. The shooting is no surprise considering Democrat city leadership has failed to enforce law and order. The out-of-control crime is so bad that notable trading desks in the Inner Harbor area have told us they're actively seeking to relocate because of violent crime. 
Officers received 911 calls around 12:35 a.m., acting Baltimore police commissioner Richard Worley said during a news conference. The mass shooting occurred at 800 Gretna Court in the Brooklyn neighborhood. When police arrived at the incident area, Worley said "multiple victims" were found with gunshot wounds.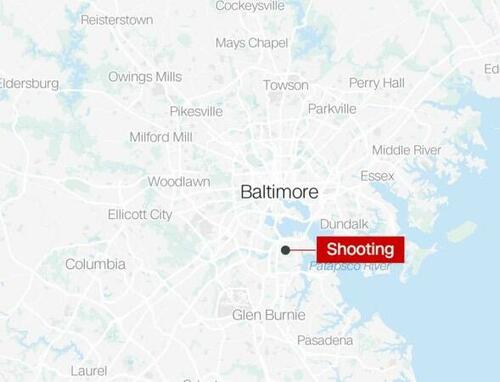 An 18-year-old woman was pronounced dead at the scene, and a 20-year-old man was pronounced dead at a hospital. Officers said 28 victims were taken to local area hospitals with gunshot wounds. 
🚨#BREAKING: Mass Shooting Claims Multiple Lives and Leaves over 30 people Injured
⁰📌#Baltimore | #Maryland

Currently a significant police and medical deployment has been initiated in response to a mass shooting that occurred during a large gathering that was taking place in… pic.twitter.com/5pd6Ck9Azz

— R A W S A L E R T S (@rawsalerts) July 2, 2023
Worley said the suspects are still on the loose. He said homicide investigators would be at the scene for "quite a while." 
"This morning, all of Baltimore is grieving for the lives that we lost here," Mayor Brandon Scott said at a press conference early Sunday morning. 
Scott called the shooting "a reckless, cowardly act" that "did not have to happen." He said, "We will not stop until we find you, and we will find you. Until then, I hope with every single breath that you take that you think about the lives that you took." 
Scott, elected in 2020, pledged to reduce gun violence. However, his crimefighting plan has been all but a failure (so far). 
Financial firms are looking to exit the city, businesses are closing up shops, and parts of the downtown area have transformed into a ghost town as anyone with common sense avoids the city as it descends into further chaos. Scott and his fellow Democrats have pushed ultra-progressive policies (similar to ones in San Francisco) that have all but backfired. We have detailed the chaos in recent months:
Keep in mind our reporting above is only in the last several months. The collapse is happening much faster under Scott and his progressive regime, who care little about law and order.
... meanwhile, Scott, like every other Democrat, scapegoats the gun industry while failing to take accountability for failed progressive policies. Democrats have been in control of City Hall for six decades. It's time to entertain or at least hear what the other side of the political spectrum offers regarding a crimefighting plan. If not, and progressive continue to run the city, then Baltimore is a lost cause. After all, the total population has collapsed to a 100-year low. The exodus is happening in real-time. 
Loading...