---
30 San Francisco Hotels Face Incoming Debt Maturity Wall As Default Dominos Begin
Park Hotels & Resorts stopped making payments on a $725 million loan secured by two San Francisco hotels this week. The loan is due in November, and dozens of other hotels in the crime-ridden metro area could experience a similar fate. 
Emmy Hise, senior director of hospitality analytics at CoStar, provided San Francisco Chronicle with a reality check that San Francisco hotels, at least 30, are facing loans due in the next two years. 
A debt maturity wall for the hotel industry is ahead as the Marxist shit (covered) city implodes under progressive leadership whose social justice policies have royally backfired, sparking a crime wave that has forced businesses to shutter doors and people to exit the city. 
Here's Park Hotels' explanation of why it reduced exposure to the San Francisco market:
Now more than ever, we believe San Francisco's path to recovery remains clouded and elongated by major challenges – both old and new: record high office vacancy; concerns over street conditions; lower return to office than peer cities; and a weaker than expected citywide convention calendar through 2027 that will negatively impact business and leisure demand and will likely significantly reduce compression in the city for the foreseeable future."
Hise warned San Francisco is experiencing the slowest recovery of any large metro area in the country. She explained that daily room rates of $234 this past year are below 2019 levels and are a margin crusher for hotel operators because of high inflation.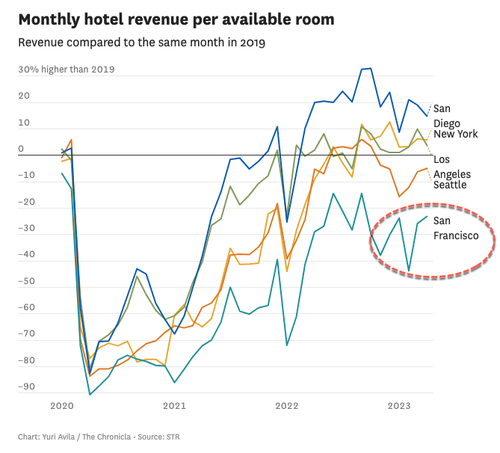 Also, occupancy rates have yet to recover from pre-Covid times as those on holiday or business refuse to visit the crime-ridden city.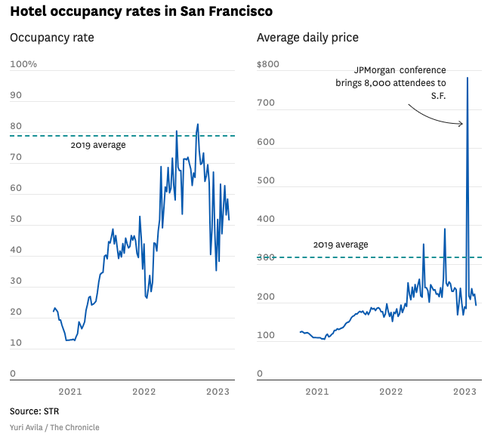 As the hotel debt maturity wall quickly approaches, high-interest rates and credit tightening make it challenging for operators to refinance and could spark a wave of defaults.
And maybe the dominos have already fallen. Park Hotels is one of many. As the Chronicle detailed:
Other San Francisco hotels such as the Huntington on Nob Hill and Yotel on Market Street were recently sold in foreclosure auctions.
Is Hilton near Chinatown the next domino to fall? 
The owner of SF's biggest and fourth-biggest hotels is surrendering them. Over 30 more SF hotel owners have mortgage deadlines in next two years

Next biggest is a Hilton near Chinatown, which has a $97 million loan due in January, $9.3 million paid off.https://t.co/b7hp9rxmBz

— Roland Li (@rolandlisf) June 7, 2023
So it's clear a perfect storm of terrible liberal policies transforming San Fran into a 'hellhole' that has crippled its recovery plus tightening credit conditions via the Federal Reserve has likely doomed a whole bunch of hotel operators across the metro area that might have no other choice but to default in the coming quarters, if not sooner. 
What's next for these empty skyscrapers? Office conversions are off the table since that side of the CRE space is imploding. So maybe apartments, but even then, who wants to live in a city where Democrats have turned it into Grand Theft Auto-esque conditions?
One last thing, just days before ParkHotels' announcement, San Francisco's Mayor, London Breed, made a significant U-Turn to re-fund police after pushing for years to defund it. What a nightmare Democrats have created for everyone. 
Loading...