---
30Y Treasury Auction Tails As Yields Tumble
With stocks suddenly tumbling (despite today's jump in initial claims) and risk collapsing and sending yields sharply lower across the curve amid a wholesale flight to safety, the lack of any concession did not benefit today's sale of $18BN in 30Y paper which was far less impressive than yesterday's solid 10Y reopening, despite expectations it would benefit from an outright yield near the highest levels of past year.
The 30Y bond, which was also a reopening (29 Year-11 Month), priced at 3.877%, modestly above last month's 3.686% and tailing the When Issued 3.871 by 0.6bps, the 2nd consecutive tail and 4 of the past 6.
The bid to cover of 2.351 was a modest improvement from 2.247 last month and just below the recent average of 2.36.
The internals were in line with recent numbers, as Indirects were awarded 70.7%, above last month's 65.2% and above the recent average of 68.8%. And with Directs taking down 19.8%, that mean Dealers were left holding just 9.45% of the auction, the second lowest number on record.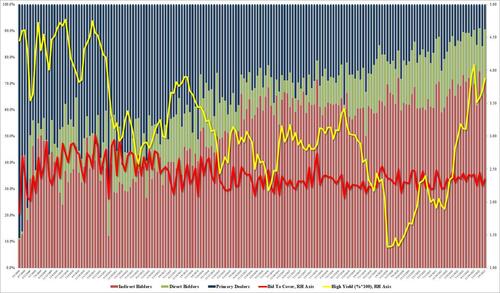 Despite the average performance of the tail, the sudden flight out of stocks and into bonds managed to mask the disappointing buyside demand, and yields remained near session lows following the break.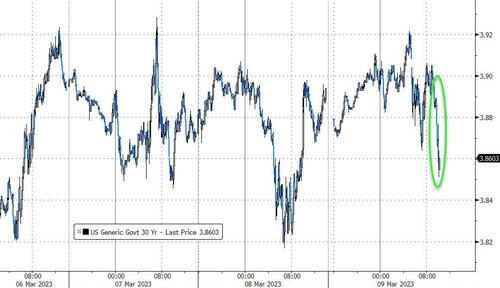 Loading...