---
39% Of Younger Millennials Return Home Amid Crushing Recession 
The virus-induced recession has abruptly upended younger millennials (ages 24 to 29) from living on their own, have now moved back home, according to a new survey.
The new survey, commissioned by TD Ameritrade (seen by CNBC), found that out of the 2,000 young millennials surveyed, about 39% are in the process or have already moved back home because of the crushing economic downturn. 
About 15% of the respondents said they're on financial life-support, with their parents helping to subsidize rent, while another 15% said their parents are covering all rental expenses.
An overwhelming majority (82%) said they don't want to rely on their parents for financial support, but due to the economic downturn, it seems like many have no other choice.
A crushing recession could be the best thing for millennials. Allows them to move home, save money, pay down pesky auto loans, credit card debt, and student loans. So by the time the next economic upswing starts, their debt loads will be low, allowing them more economic mobility. 
Another reason why millennials should considering moving back is that the recovery stalled in mid/late June, and some cases reversing. A recovery heading south again is bad news for the labor market, as we noted this week, the second round of layoffs is well underway. 
For more color on this, the latest Chase credit and debit card data shows consumer spending activity is well below the baseline and stalled in mid-June.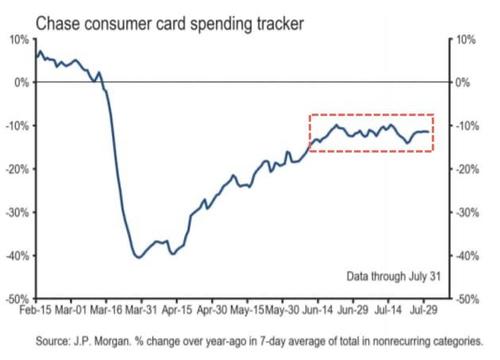 The stalled recovery has led to a reversal in the labor market with Initial Claims and Continuing Claims now on the upswing. The slowdown in the economy has been widely attributed to rising COVID-19 cases and deaths in Sun Belt states, resulting in much of the country to slow down, pause, or reverse reopenings. 
What this means is that the economic surprise index will likely reverse.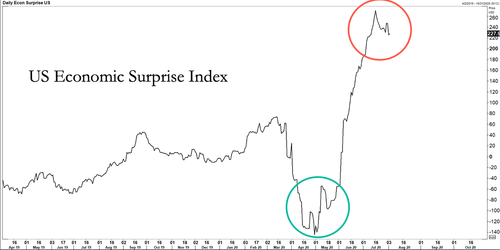 Young millennials are making the right choice to move home as the crushing virus-induced recession persists.