---
3M Announces Another 2,900 Job Cuts As Corporate Layoffs Pile Up
One of the most puzzling single-stock stories of the post-pandemic era is how 3M, a pillar of American industry and long-time component of the Dow 30, has seen its shares lag this year. Though shares have seen a pickup as of late courtesy of the rotation in value, they' only just barely tapped their highs from January, before 3M was bushwacked by fears about slowing global growth and demand.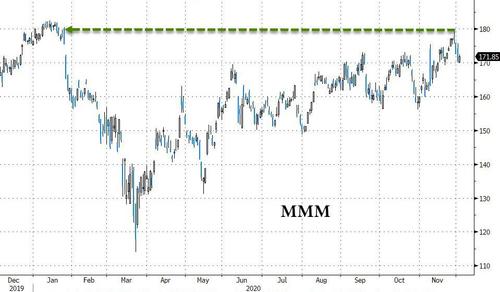 Now for at least the second time this year, 3M on Thursday announced plans for a serious "restructuring" - this one will involve 2,900 job cuts - and "scale back on investments in lower-growth markets". It will also involve a pre-tax charge of $250 million to $300 million due to the move, with $120 million to $150 million to be incurred in the fourth quarter of 2020.
Here's more from Reuters.
"The COVID-19 pandemic has advanced the pace of change and disrupted end markets around the world, increasing the need for companies to adapt faster," Chief Executive Officer Mike Roman said.

3M said the restructuring actions would allow it to take advantage of global market trends in e-commerce, health care, automotive electrification and home improvement.

The company had 96,163 employees as of Dec. 31, 2019.

The company said it expects the restructuring to result in pre-tax savings of $200 million to $250 million this year and $75 million to $100 million in 2021.
The changes appear to be aimed at 'pivoting' to a post-COVID economy, and will involve investments to the company's data and analytics prowess, according to CEO Mike Roman in comments reported by Bloomberg.
The maker of Post-it notes, medical masks and chemical additives will step up the use of analytics and data to improve efficiency and enhance marketing in response to an increasingly digital age, the Minnesota-based company saidThursday. The measures, cutting about 3% of its employees as of the end of last year, will result in a pretax charge of as much as $300 million. 3M has boosted production of the N95 masks needed by health-care workers to protect against the coronavirus, but sales otherwise have been sluggish during the pandemic. Third-quarter organic sales growth was about 1% in the third quarter and the company was unable to provide an earnings forecast.

3M highlighted safety equipment, health care, electric vehicles and home improvement among the growth markets it's targeting. At the same time, Roman will scale back investment in slower growth areas, the company said, without giving details. Having announced strategic steps to transform 3M in January, Roman returned to the drawing board in the wake of the pandemic that's hurt economies worldwide.
One would think a company that literally makes masks, hand sanitizer and other cleaning products would be scrambling to hire as many workers as possible. Not so.
Reading this news, you just gotta wonder: what can be said about the state of the American economy (not to mention investors' priorities) when companies that are cranking out masks and hand sanitizer are culling workers, not scrambling to hire more.
As CNBC's Carl Quintanilla noted in a tweet, the year-end corporate layoff announcements are starting to pile up.
The year-end corporate restructuring/layoff reports are starting to pile up.

* Exxon: 1500 jobs
* Conoco Philips: 500 jobs
* 3m: 2900 jobs$MMMhttps://t.co/wJotxAL4IM

— Carl Quintanilla (@carlquintanilla) December 3, 2020
Could this have implications for the broader rotation to value? We shall see.