---
60% Of Restaurants Struggling To Find Enough Employees
Three years after Covid led to a national shutdown of restaurants, the $900 billion US foodservice industry is struggling to find enough workers - despite boosting pay and benefits. In fact, over 60% of establishments say they're understaffed, according to a new poll cited by Bloomberg.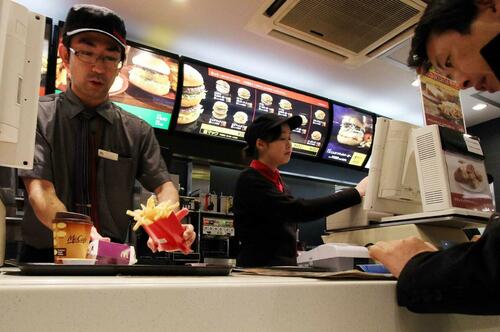 Chains such as Domino's Pizza and Jack in the Box say the labor shortage is hurting business.
Like much of the US labor market at the moment, the picture that official data paint of the restaurant industry can look contradictory. On one hand, foodservice employment levels are approaching where they were in early 2020 and the number of restaurants is still below pre-pandemic counts, implying there are plenty of workers to go round. Yet for every two job openings in foodservice, there's only one unemployed person to potentially fill the gap, and job openings spiked to 1.7 million in December. -Bloomberg
"Despite the really strong gains in the labor market, leisure and hospitality continues to be the sector where you haven't seen the full recovery," said Anna Zhou, an economist at Bank of America Institute. "They continue to struggle to fill every opening."
Of note, US restaurant and bar sales are projected to increase to the tune of 6% this year to nearly $1 trillion.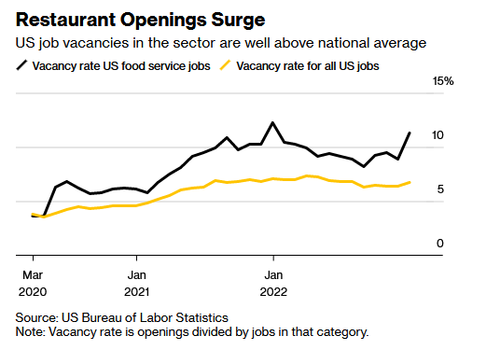 Domino's Pizza can't find enough delivery drivers, causing pizzas to take longer to get to customers than they did in 2019. At Jack in the Box, around 70% of locations are operating on fewer store hours despite a wage increase last year.
"People don't really want those jobs anymore," said Lightcast senior economist Rucha Vankudre. "Given how much choice there is in the market right now, people are kind of moving away."
Who's still missing from the labor force? Mostly Millennials and Gen Xers, who make up a 'significant chunk' of the more than 2 million people who are still unemployed, according to BofA research from February. They explain that many left for childcare or eldercare reasons, or quit because of a disability or a disease, or relocated to areas with lower costs of living, Zhou told Bloomberg. These structural changes have left restaurants desperate for servers, cooks and cashiers.

Things were bad in the industry even before the pandemic, however. Restaurant jobs typically mean hard work and low pay, which the 'get rich quick' entitlement generation seems allergic to.
Now, the industry has been forced into an unprecedented growth spurt and must claw back the millions of jobs that were lost in 2020: food and beverage outlets are projected to have the largest employment jump of any industry for the decade through 2031, data from the Bureau of Labor Statistics show.

Burger King and Qdoba franchisee Matt Herridge's staff have been quitting, too stressed and tired to work in his 11 restaurants across West Virginia and Ohio. One Burger King general manager, who'd worked there for more than a decade, left during the pandemic for a 9-to-5 office job at an auto servicing company, desperate for predictable hours and no night shifts. -Bloomberg
"The way she described it to me — in tears even — 'My son wanted to know how often he will get to see me.' There's a lot of stories like hers," said Herridge. "Just folks who went out and found other types of work that felt a little bit more stable to them."
The average hourly wage for a fast-food cook in May of 2021 was $12.25, vs. $21.22 for the average construction worker, or $17.28 for a data entry position. The fast food industry has tried without success to boost perks to no avail.
Many restaurants, including McDonald's Corp. and Domino's, gave workers bonuses during the pandemic. Some smaller chains and franchisees that did the same are now struggling to wean them off.

Herridge started offering a $2-per-hour attendance bonus in late 2021, where employees get extra pay just for showing up. He's since notched it down to $1 per hour extra, but said that competition from other industries would make it difficult to scrap entirely. -Bloomberg
"I have to raise prices when I raise wages. That's just how it works," said Herridge, who can't find enough staff to get his Burger Kings back to 24-hour operations. "That's going to be the primary driver of inflation still over the next year or so."
Loading...