---
62% Of Food Derived From Forced Labor Is "Likely Produced In The U.S."
International Labor Organization estimates say that up to 28 million people could be coerced into forced labor as part of the country's food chain on any given day, a new study highlighted by Forbes revealed this week. 
The study was published Monday in the journal Nature, and it found that forced labor - once thought to be an issue only outside of the United States - is actually taking place within the country's borders.
Social risk assessments and case studies of labour conditions in food production primarily focus on specific subpopulations, regions and commodities. To date, research has not systematically assessed labour conditions against international standards across diverse, complex food products. Here we combine data on production, trade, labour intensity and qualitative risk coding to quantitatively assess the risk of forced labour embedded in the US land-based food supply, building on our previous assessment of fruits and vegetables.

We demonstrate that animal-based proteins, processed fruits and vegetables, and discretionary foods are major contributors to forced labour risk and that 62% of total forced labour risk stems from domestic production or processing. Our findings reveal the widespread risk of forced labour present in the US food supply and the necessity of collaborative action across all countries—high, middle and low income—to eliminate reliance on labour exploitation.
The findings included the fact that 62% of products sold in the U.S. and produced by forced labor were "likely produced in the U.S.". The highest risk of foods using forced labor come from animal-based proteins, processed fruits and vegetables and discretionary foods, the report says.
It also notes that sweeteners, coffee, wine, and beer all require handpicking or significant processing, and can also be at risk. Forbes concluded that "more often than not, when forced labor produces the food Americans eat, it likely happens within the U.S. instead of at foreign locations that import food".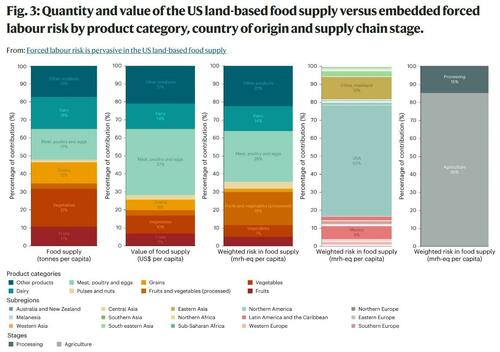 The study's authors conclude that trade bans and trade sanctions are the "most effective tools" in preventing forced labor. Poverty, language barriers and precarious immigration statuses contribute to the risk of people being forced into work.
It uses the International Labor Organization's definition of forced work, described as "situations in which persons are coerced to work through the use of violence or intimidation, or by more subtle means such as accumulated debt, retention of identity papers, or threats of denunciation to immigration authorities."
Loading...