---
AAPL Plunges After iPhone Sales Miss, China Revenues Plummet, Lack Of Forecast
Moments after earnings disappointments by Twitter and Amazon, the world's largest company, Apple whiffed when it reported Q4 revenue and earnings that beat expectations, but a big miss on iPhone revenues, a collapse in Chinese sales and the lack of guidance is why the stock is tumbling after hours.
Below are the highlights from Q4:
Revenue $64.70 billion, beating estimates of $63.47 billion
EPS 73c (down from 76c y/y), and beating estimates of 70c
Service revenue $14.55 billion, beating estimates of $13.87 billion
Products revenue $50.15 billion, beating the estimate $49.96 billion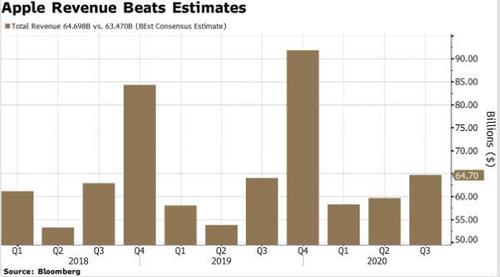 So far so good. But where things got ugly was the breakdown in unit sales and here there was a rather painful miss in iPhone revenue which came in at $26.44 billion, below the estimate of $27.06 billion, and down 21% from the $33.3BN a year ago. Wall Street was not amused. Other segments generally did better than expected as follows:
Mac sales were $9 billion, up 29%, above expectations of $8.04 billion.
IPad revenue came in at $6.797 billion, up 46%, and also better than expectations of $6.06 billion.
Wearables provided Apple with $7.87 billion of sales, up 21%, beating estimate of $7.35 billion.
And visually, it is becoming quite clear that the star of the iPhone - which peaked in 2017 - has now set.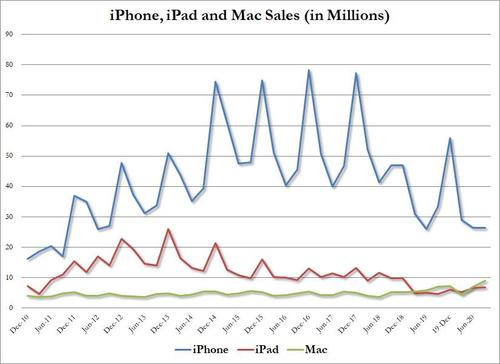 One wonders if the peak in iPhone sales isn't also the peak of the company's revenues, as the following chart would suggest.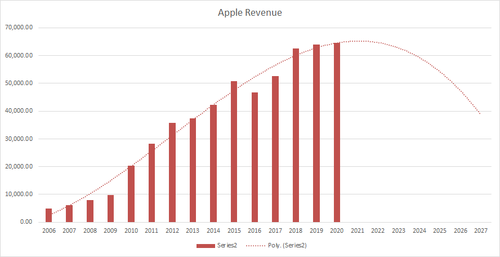 And while AAPL's service revenue was clearly impressive, surging to a record $14.55BN, and above the $13.87BN estimate...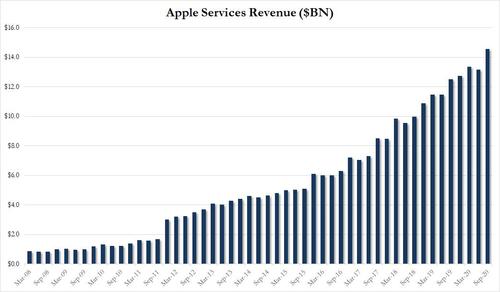 ... this was more than offset by another major flashing red alert, namely the collapse in China revenues, which plunged a whopping 29% in Q4...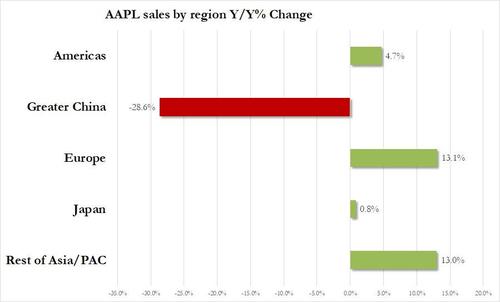 ... from $11.134BN to just $7.9BN, the lowest for the region since at least 2015.
And another way to visualize the plunge in China sales in context:
And one final reason why investors were less than excited: for yet another quarter, AAPL refused to provide a forecast, suggesting that the covid storm has much more to go.
"Our outstanding September quarter performance concludes a remarkable fiscal year, where we established new all-time records for revenue, earnings per share, and free cash flow, in spite of an extremely volatile and challenging macro environment," CFO Luca Maestri said in the statement.
Echoing the enthusiasm, CEO Tim Cook was also upbeat, saying that "Apple capped off a fiscal year defined by innovation in the face of adversity with a September quarter record, led by all-time records for Mac and Services," and adding that "despite the ongoing impacts of COVID-19, Apple is in the midst of our most prolific product introduction period ever, and the early response to all our new products, led by our first 5Genabled iPhone lineup, has been tremendously positive."
However, as Bloomberg predicts, "pretty much every question on the upcoming call is going to focus on the iPhone outlook and what happened in China." Cook's briefest of references to the early response to "all our new products, led by our first 5G enabled iPhone lineup, has been tremendously positive" is likely going to need a lot of expanding on.
And indeed, shareholders did not see things even remotely as optimistically as Tim Cook, and the stock plunged as much as 5% after hours No forecast, weak iPhone revenue and a very bad quarter in China are what's giving investors pause here.