---
About That "Giant" Derivative Trade That Sent Stocks Soaring
In arguably the most hyperbolic headline of the day, Bloomberg reported this afternoon that according to Wells Fargo, "One Big Option Trade Fueled S&P 500's Midday Jump." Specifically, according to Wells Fargo's Chris Harvey, one "giant" options transaction "may have sparked the S&P 500's bounce on Wednesday." The trade, which took place just after 12pm ET, a time when the S&P blasted off to session highs and arguably prevented another afternoon rout, consisted of the following:
buy 20k oct 31, 4500 calls
buy 14k mar 17, 4300 calls
sell 48k jan 20, 4500 calls
The payoff profile, as illustrated by SpotGamma, is shown below: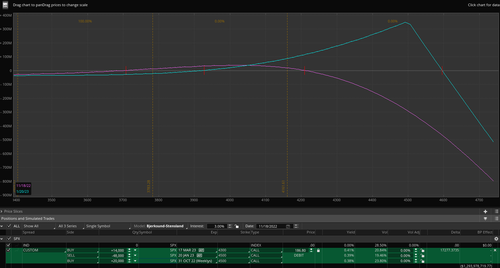 The net delta of the package was just over $30 million, a tiny amount, yet one which according to Wells Fargo's Chris Harvey was enough to push hundreds of billions in market cap higher.
"The Greeks of the trade are likely what gave a mid-day pop to the S&P 500," Harvey wrote in a note to clients.
For those unfamiliar with Greek terminology, the delta means dealers who took the other side of the client trade had to immediately hedge by buying risk in the open market: it is this offsetting hedge that supposedly helped spark the 12pm buying spree. Gareth Ryan, managing director at IUR Capital, explains: "the dealers who took the other side of this had a huge amount of risk to offset," and they likely bought equity futures to keep their books neutral. "It certainly could've impacted the cash market. This is one of the largest trades by size that I have seen in a long time."
That said, not everyone agrees that a trade with such a tiny delta was powerful enough - even in this extremely illiquid market - to help propel the S&P from 3750 to above 3800. Another Chris, this time Murphy, the co-head of derivatives strategy at Susquehanna International, noted the S&P 500's recovery coincided with a retreat in the dollar and an upward revision in the Federal Reserve Bank of Atlanta's GDPNow index.
"The USD pulling back off highs was the main catalyst for the S&P rebound, plus the Atlanta GDP upgrade," Murphy said. "The delta component of that options trade was not huge. It did not have a big impact on the S&P 500 rally."
Our friends at SpotGamma are also skeptical. As they write in their EOD note, "traders' repositioning after the quarterly expiration and follow-on volatility sales, which we unpacked the motives for last night, resulted in a sharp but unsustainable market rise. As we added last night, for the rally to sustain, traders would need to increase their commitment to call options."
Today, SpotGamma notes that traders increased their commitment to call options, in the process ignoring a trade reco (available to pro subscribers in the usual place) from Goldman's managing director in cross asset sales Brien Garrett (who is also one of Goldman's top paid traders), in which he urged clients to "keep your index vega exposure in the right tail at a minimum for now, spot up vol down is here." He detailed the trade as follows:
in the last two years, a higher implied vol regime has manifested and the attractiveness of convexity has quickly diminished… if you are bullish, i would recommend against buying outright call options as your carry will be quite difficult, and spot up vol up is (for now) a thing of the past (chart 2)

index ideas… spreads, KO calls, and call flies are the trades to put in the book for now … or a slightly nuanced version, one could go long puts on a heavy delta (ie, buy 30 delta put and run on 50delta – i believe skew should go bid if the market rally continues).

singles ideas … at this moment in time, the cost of a single stock call (3m25d) is at one of the lowest levels in the last decade (chart 3) relative to the index … said another way, the cost of "idiosyncratic" upside has rarely been cheaper … with single stock ideas in mind, we published a great note today on attractively valued cash flow generating stocks (croci) or look to the gs conviction buy list
Echoing Garrett, SpotGamma also can't get behind the supposed bullishness of either the open call buyers, or the above "big option trade", so long as key levels do not roll up, and as they add, "If the Call Wall rolls higher (as a result of a lot of commitment to call options or impactful market movement which solicits increased hedging of call options), then the upper bound of our expected trading range shifts up, and that is bullish."
Again, that hasn't happened, which is why SpotGamma "maintain that the $3,800.00-$3,850.00 area is an important resistance with key support at $3,700.00 and $3,600.00 down below."
On the other hand, if the meltup extends over the next few days, and sees spoos rise above 3,900 then hang on to your hats. Why? As Goldman's Michael Nocerino calculated, "CTAs are currently "max short" -$88BN of global equities (-$21b of which is S&P)" after selling -$110BN of global equities in September (-$25b S&P). But if contrary to CTA momentum-chasing expectations, the market is able to accelerate to the upside in coming days, and recaptures short term momentum threshold levels, CTAs will be gargantuan short-squeezed buyers (again) this month because "like other episodes this year, right-tail fear is amplified by this community potentially getting stopped-in and repurchasing large amounts along with historical Q4 seasonals."
How much buying? Well, as of the weekend, Goldman had "$122BN to buy in an up 2-sigma tape."
Where does the CTA short squeeze kick in? Again, Goldman calculates that "3910 is the short term threshold to watch" and "if we keep rallying like this it's not that far away."
Much more in the associated notes available to pro subscribers.
Loading...