---
Activist Investor Calls On Peloton To Fire CEO And Prep For Sale
Peloton Interactive, Inc. stock has been mired by bad luck lately, but shares were on the rebound, gaining as much as 3.5% premarket following a report that an activist investor wants the exercise-equipment maker (known for slapping an iPad on a stationary bike and charging thousands of dollars) to fire the chief executive officer and explore a sale.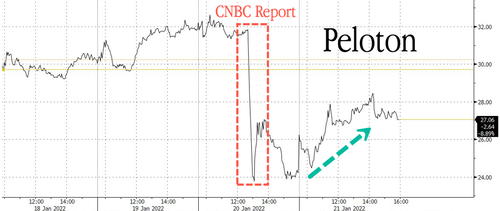 Blackwells Capital LLC sent a letter Monday to the company's board to fire CEO John Foley and "put the company up for sale." 
The investment firm has less than a 5% stake in Peloton and believes the company is an attractive acquisition target for big tech. 
"Undoubtedly, Peloton and its customer base would be extremely attractive to any number of technology, streaming, metaverse and sportswear companies (e.g. Apple, Disney, Sony, Nike), who could extend their presence in the home, in health and wellness and on the screen through Peloton. Given the mess that Peloton has become as an independent company, we are convinced that one or more of these strategic acquirors could provide significantly more value, with substantially less risk, than Peloton is likely to generate for its shareholders on its own," the letter said. 
The letter comes as Peloton shares have crashed more than 80% from their highs. It was once a pandemic darling as people canceled their gym members and ordered bikes and treadmills during the early days of the pandemic. Now the stock trades well below its September 2019 IPO price of $29 as people return to the gym. 
"With the stock now trading below the IPO price, and down more than 80% from its high, it is clear that the Company, the executives and the Board have squandered this opportunity," the letter continued. 
Earlier last week, Peloton said it would begin charging customers hundreds of dollars in fees for delivery and setup (something it has never done before). Later in the week, CNBC reported that it was temporarily halting production of its products because of declining demand. Foley released a letter after the report, calling it "incomplete, out of context, and not reflective of Peloton's strategy."
Blackwells warned the company "is on worse footing today than it was prior to the pandemic, with high fixed costs, excessive inventory, a listless strategy, dispirited employees and thousands of disgruntled shareholders." 
Meanwhile, Peloton bikes have been viewed unfavorably in two television shows, the first on "Sex And The City" in December and hedge-fund drama "Billions" on Friday. In both shows, the main characters suffered heart attacks during or after workouts on the bike.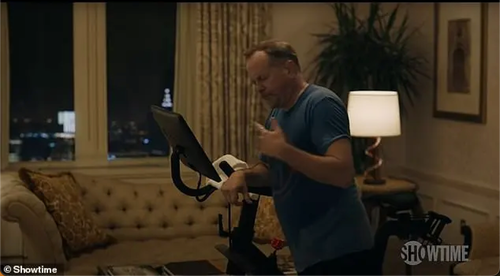 Peloton tweeted Sunday, "we did *not* agree for our brand or IP to be used on Billions or provide any equipment." 
What happens to Peloton here remains a mystery as it has fallen into hard times as pandemic demand growth has plunged. We noted that the company could engineer a short squeeze by releasing headlines about diving into the metaverse with VR cycling rides. Or perhaps, as we find out today, shareholders are attempting to squeeze prices higher by pushing the company to change management and push for a sale.