---
Adani Group Explores Legal Action Against Hindenburg's Short Attack Report
Short seller Hindenburg Research sparked market turmoil in Indian stocks and bonds after attacking India's richest man, Gautam Adani, Founder and Chairman of the Adani Group, for "brazen stock manipulation and accounting fraud scheme over the course of decades."
Now the legal team of the Adani Group is exploring legal action against Hindenburg.
"We are evaluating the relevant provisions under US and Indian laws for remedial and punitive action against Hindenburg Research," Jatin Jalundhwala, legal head for the Adani Group, wrote in a statement. 
Jalundhwala said the "maliciously mischievous, unresearched" report "adversely affected the Adani Group, our shareholders and investors" and sparked "volatility in Indian stock markets" that caused "unwanted anguish for Indian citizens." 
He continued:
"Clearly, the report and its unsubstantiated contents were designed to have a deleterious effect on the share values of Adani Group companies as Hindenburg Research, by their own admission, is positioned to benefit from a slide in Adani shares."
Jalundhwala added:
"We are deeply disturbed by this intentional and reckless attempt by a foreign entity to mislead the investor community and the general public, undermine the goodwill and reputation of the Adani Group and its leaders, and sabotage the FPO (Follow-on Public Offering) from Adani Enterprises."
On Thursday, a selloff of dollar bonds linked to the Adani Group continued. The declines came after Hindenburg's report was published late Tuesday night.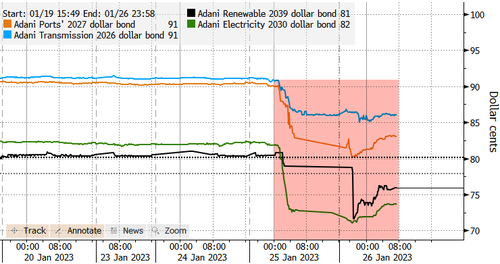 Kaveh Namazie, a credit analyst at Australia & New Zealand Banking Group Ltd., said a lot of Hindenburg's allegations against Adani were already known, such as "leverage and corporate governance" issues, "but the detail and extent of the research and timing of the release, with several Asian markets still out, saw a large impact" on bonds and stocks tied to the Indian company. 
In September, Fitch Group unit CreditSights outlined the Adani Group's leverage as "elevated" and "a matter of concern."
Adani on Wednesday called the report baseless.
Loading...