---
Adani Share Sale Fully Subscribed Despite Fight With Short Seller Hindenburg
India's richest man Gautam Adani is breathing a sigh of relief after his flagship company achieved a fully subscribed stock sale on Tuesday, despite a short seller attack by US firm Hindenburg Research. 
Adani Enterprises Ltd completed India's largest follow-on share sale of $2.5 billion. There was a surge in demand over the last few days when notable investors, such as Abu Dhabi's International Holding, which the emirate's royal family controls, committed $400 million. 
The successful share sale signals Adani still has the backing of global investors with deep pockets. This comes even as Adani's corporate empire suffered a $75 billion market value wipeout after Hindenburg's scathing short report last week alleged the conglomerate conducted "brazen" stock manipulation and accounting fraud.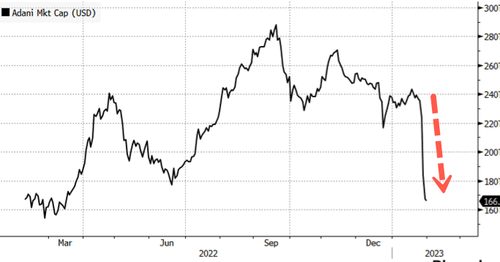 "One concern of the market seems to be out of the way now," said Deepak Jasani, head of retail research at HDFC Securities Ltd.
Jasani said Adani has "been able to convince high-net-worth individuals and deep-pocketed people to take exposure."
A failure to meet the fundraising goal would have been a significant blow to Adani's reputation and increased concerns about the conglomerate's debt load. And since that didn't happen, the fully subscribed offering might be enough to remove one overhang from Adani and his companies, along with Inidian stocks. 
Seven of the ten companies under the Adani Group rose today, while Adani Total Gas closed lower. The S&P BSE Sensex and NSE Nifty 50 Index both closed flat.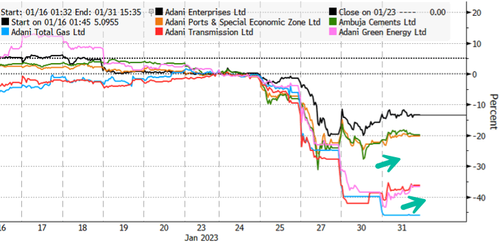 Adani might have calmed investors Sunday when his company responded to 65 of the 88 questions Hindenburg wrote in the short report last week. The Indian conglomerate said Hindenburg's report was "nothing short of a calculated securities fraud under applicable law."
Meanwhile, Adani's personal wealth plummeted by $34 billion in the last four trading sessions. He fell out of the world's top 10 richest people list and now ranks 11th on the Bloomberg Billionaires Index, with a current fortune of $84.4 billion. 
"Now that Adani's FPO is out of the way, investors' focus may start shifting back to India's growth story," said Sumeet Rohra, a fund manager at Smartsun Capital Pte. in Singapore.
Loading...