---
Adani Wipeout Hits $68 Billion; Despite Turmoil, UAE Sees Investment Opportunity
Adani Group published a 413-page rebuttal on Sunday, condemning Hindenburg Research's 100-page short report last week. Hindenburg responded overnight, indicating the rebuttal only answered 62 of 88 questions and sidestepped key questions. Adani's rebuttal wasn't enough to calm investors as most stocks and bonds tied to the Indian group plummeted for the third session. However, bucking the bear trend, Abu Dhabi's royal family is bullish on Adani. 
Since Hindenburg accused Adani Group of "pulling the largest con in corporate history," having "engaged in a brazen stock manipulation and accounting fraud scheme over the course of decades," a three-day selloff has wiped out more than $68 billion of market capitalization from Adani Group companies.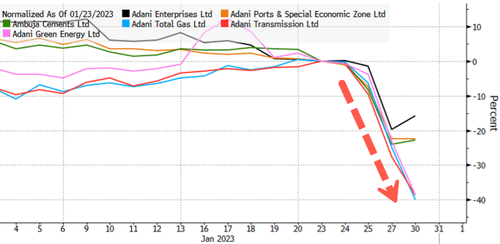 Billionaire Gautam Adani has lost $20 billion in personal wealth. His ranking on the Bloomberg Billionaire Index had shifted down to number seven from number four before Hindenburg published the short report last Wednesday. 

"Not sure if Adani's rebuttal is enough to assuage investor concerns. Just because things are disclosed and known does not make them right," said Brian Freitas, an analyst at Smartkarma.
Freitas added: "How does a group that big explain no analyst coverage and no mutual fund holdings?"
Late Sunday, Hindenburg wrote in a statement that Adani's rebuttal failed to answer key questions:
Our report asked 88 specific questions of the Adani Group. In its response, Adani failed to specifically answer 62 of them. Instead, it mainly grouped questions together in categories and provided generalized deflections.

In other instances, Adani simply pointed to its own filings and declared the questions or relevant matters settled, again failing to substantively address the issues raised.

Of the few questions it did answer, its responses largely confirmed our findings, as we detail.
Hindenburg released its report last week ahead of a $2.5 billion follow-on public offering in Adani Enterprises for institutional investors. The shares are trading at a discount to the offer price. 
"They might need to give more discount.

 "It looks difficult for investors to justify buying the FPO, so they might not join the offering. Besides, onshore mutual funds have avoided active exposure to the group so they might not participate much," said Nitin Chanduka, an analyst at Bloomberg Intelligence.
Meanwhile, in an interview, Adani Group CFO Jugeshinder Singh told CNBC TV 18 that there would be no change to the offer price.
Despite all the turmoil, Abu Dhabi-based International Holding Co. said it would invest 1.4 billion dirhams ($400 million) in the follow-on share sale, representing about 16% of the total offering. 
"Our interest in Adani Group is driven by our confidence and belief in the fundamentals of Adani Enterprises.

"We see a strong potential for growth from a long-term perspective and added value to our shareholders," IHC Chief Executive Officer Syed Basar Shueb said. 
We wonder if IHC's investment is enough to restore confidence in the Adani Group.
Loading...