---
After Mass Chicken Cull, China Approves Live Poultry From US 
The Ministry of Agriculture (MOA) of China has approved the import of live chickens from the US after farmers across the country were ordered to cull tens of millions of chickens because of the Covid-19 outbreak. 
The MOA had banned poultry meat imports from the US in 2015 due to avian influenza threats. 
As a concession for the phase one trade deal, China had lifted poultry meat import bans and now has allowed the import of live chickens, reported the Financial Times. 
Beijing allowing the MOA to approve the import of live chickens is mostly because the mass culling has led to a sharp increase in prices. At the moment, China isn't just facing a shortage of food, but also an economic crisis, and couple both of those together, the real threat of protests and riots in many cities, some larger than NYC, could be nearing.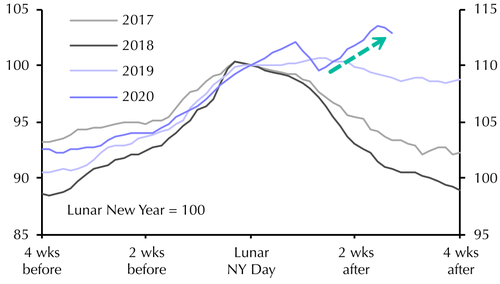 "There is no question China's chicken population will fall sharply in the coming months," said Qiu Cong of Jinghai Poultry Industry Group. "The chicks are gone and farmers are struggling to make ends meet."
A report by Wang Zhongqiang, a former director at the China Animal Husbandry Association, and Ning Zhonghua, a professor at China Agricultural University, said farmers had culled upwards of 100 million young chickens since the virus broke out. Though the figure is approximately 1% of China's annual production of 9.3 billion chickens, it's currently having an impact on prices. 
On top of this all, farmers culled 50% of the country's pig herd last year on the rapid spread of the African swine fever virus. 
Darin Friedrichs, a Shanghai-based commodity analyst at INTL FCStone, said meat prices in China would remain high for the next quarter while new sourcing is seen. Friedrichs added that shortages could persist in the weeks ahead.
Charoen Pokphand Group, a top animal feed maker with factories in Hubei, the epicenter of the Covid-19 outbreak, said its supplies are running low. "Freight traffic has collapsed in Hubei," the company said. "There are roadblocks everywhere."
China allowing imports of live chickens from the US is a positive for the Trump administration but won't have a significant impact on reaching the $200 billion hard targets of goods the country must purchase over the next two years. 
The virus impact for US goods under phase one trade deal has likely plunged. Even Trump administration officials admit the trade deal will be slow to implement considering the disruptions in China.