---
After Three Weeks Of Absence, Stock Buybacks Are Back... As Is VWAP Dip-Buying
After peaking on Jan 4, stocks have been a one-way train lower and while traders have had little problem to digest the stated reason behind the market's weakness, namely the Fed's growing hawkishness, there has been some confusion as to the circularity of cause and event, and whether we haven't merely seen a lot of narrative goalseeking ("blame the Fed') in the past three weeks to explain the lack of even modest dip-buying.
However, we now may have an explanation for not only the late day market swoons but also for the market's broader weakness, and it has little to do with the Fed (which everyone knows won't let markets crash).
The reason for the market's odd behavior is simple - buybacks, or rather lack thereof, because as Goldman reminded us earlier today (see here) so far in 2022, there has been no corporate buyback activity (with the exception of small activity in 5b29-1 plans).
That's right: as Goldman's Scott Ribner writes, US corporates - the largest purchaser of stocks in 2021 - has been out of the market for 2022, which is why there has been no VWAP-style buying of the dip.
But on Friday, the blackout period ended, and buyback restart again on Monday... and now with much lower prices.  Some more details from Goldman (full report available to pro subscribers):
Corporates return to the market on Monday (1/24/22) for the first time in 2022 with the nimble ability to now buy into weakness. US corporates are the largest buyer of the equity market in 2022, with +$975 Billion of demand, the best year on record.

This is roughly $245B per quarter (next blackout is March 14th). ~$245B / 45 days blackout adjusted. This is $5.5B per day during this stretch. 8% of the S&P is currently in the open window. This matters for the index level, as much as not being in the market, also mattered.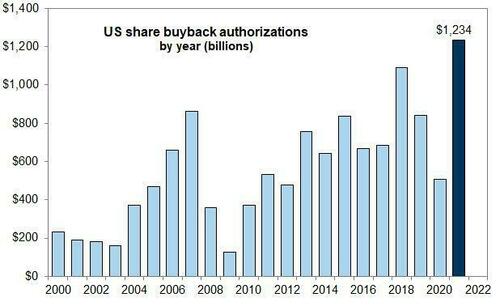 So between a whopping $5.5BN in daily purchases by price-indiscriminate buyers (whose only limitation is how much money they can raise in the corporate bond market and then immediately flip to use the proceeds to buy back stock) and some $3.3 trillion in option expirations which mean that the negative gamma dealer overhang is now gone (as well as over a dozen other reasons why we are due for a major relief rally), don't be surprised if this extremely illiquid market...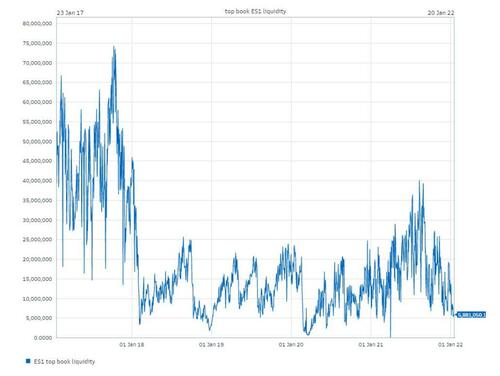 ... rips to the upside tomorrow when the latest iteration of shorts panics and scrambles to cover ahead of the buyback.