---
Alibaba Shares Jump As Jack Ma Makes Rare Appearance In China
Jack Ma, Alibaba Group Holding's founder, returned to China after spending a year abroad and visited a school he established in 2017. The billionaire experienced a multi-year rift with Beijing following his criticism of regulators in 2020. This news prompted a jump in Alibaba's shares trading in Hong Kong.
According to South China Morning Post, Ma met with teachers and students at Hangzhou Yungu School. He discussed the future of education in the era of artificial intelligence. 
"We must use AI to solve problems, not to be controlled by AI," Ma said. 

He also said: "ChatGPT and similar technologies are just the beginning of the AI era. We should use artificial intelligence to solve problems instead of being controlled by it." 
Since late 2020, Ma has maintained a discreet presence after criticizing Chinese regulators for halting the planned IPO of Alibaba's affiliate, Ant Group.
The billionaire has spent most of the last year in Japan. He recently celebrated Lunar New Year in Hong Kong and traveled to Singapore and Australia.
Shortly after the SCMP's report, Alibaba's shares that trade in Hong Kong jumped 4% but gave up most gains late in the session. Shares in New York are flat in premarket trading.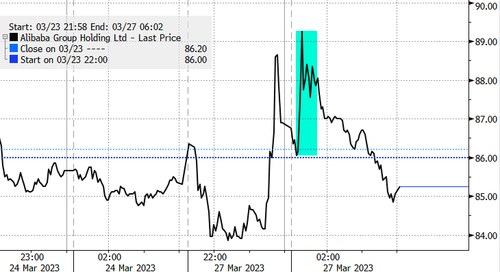 And while Beijing is attempting to restore a business-friendly image after a multi-year crackdown on technology companies, Bloomberg noted Chinese authorities made attempts to persuade Ma to stay and help repair the image of the business community. However, the media outlet said Ma has decided to focus on agriculture technology research. 
The good news: 
"Jack Ma showing up in Hangzhou after more than a year away from China should be positive for market sentiment," said Vey- Sern Ling, managing director at Union Bancaire Privee. 
What this appearance also means is that Ma does not perceive a risk of arrest or, even worse, vanishing. It could also suggest further regulatory normalization for tech companies.
Loading...