---
Alibaba Shares Slump After Trump 'Looking Into' Pressuring Chinese-Owned Companies 
Shares of Alibaba trading on the NYSE during Monday's premarket session slumped 120bps to $251 following President Trump's comments on Saturday about exerting more pressure on Chinese-owned companies.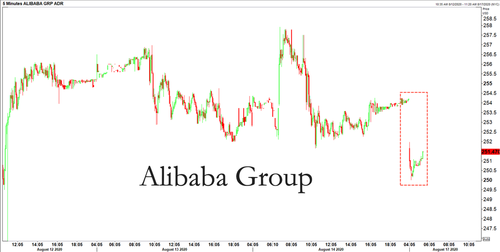 During the Saturday press conference in Bedminster, New Jersey, the president said he would increase pressure on Chinese-owned companies, such as Alibaba, along with a move to ban TikTok.
"Well, we're looking at other things, yes," President Trump said without providing additional details.
Reuters explained how Trump has been heaping more pressure on Chinese-owned tech companies as ByteDance supplants Huawei as President Trump's Chinese corporate villain No. 1.
"Trump has been piling pressure on Chinese-owned companies, such as by vowing to ban short-video app TikTok from the United States. The United States ordered its Chinese owner ByteDance on Friday to divest the U.S. operations of TikTok within 90 days, the latest effort to ramp up pressure over concerns about the safety of the personal data it handles," Reuters said.
U.S.-China tensions are mounting ahead of the U.S. presidential elections this fall. President Trump has made his tough stance on China a central theme of his presidency.