---
Alibaba Slapped With $2.8 Billion Anti-Trust Fine As Analysts Ponder Whether Worst Is Over
Chinese anti-trust regulators have just slapped Alibaba with a record RMB18.2 billion ($2.8 billion) fine after concluding that the Chinese e-commerce giant had abused its market dominance for the sake of profit at the expense of Chinese society.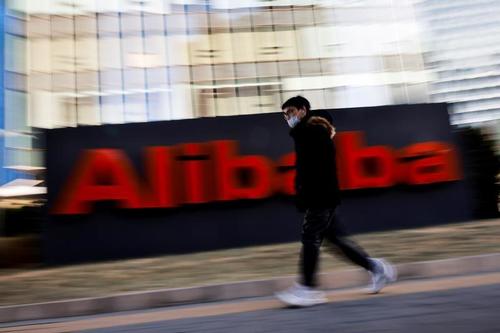 The FT reported that China's State Administration of Market Regulation announced the penalty on Saturday. It was set at 4% of Alibaba's 2019 revenues, amounting to a slap on the wrist. Alibaba was meant to "carry out a comprehensive rectification" drive on its platform, a reference to what antitrust regulators deemed the company's primary sin: forcing merchants to sell exclusively on its Tmall and Taobao online shopping platforms. The review is intended to force Alibaba to strengthen its legal controls and compliance with the new antitrust framework. Alibaba has 15 days to submit a report detailing changes to this "illegal behavior. In a statement, Alibaba said it "sincerely accepted" the penalty.
A Chinese antitrust lawyer, who asked to remain anonymous, said the fine "was meant to teach Alibaba 'don't think you can do whatever you want,' but [would] not materially harm the business." He noted the penalty was not as large as it could have been and was limited to Alibaba's ecommerce operations, rather than its other industry-spanning operations.
In a roundup of commentary from domestic lawyers, academics and analysts, Reuters quoted Wu Ge, director at the Beijing Zhongwen law firm, who cautioned that the fine was a message not only to Alibaba, but to Chinese consumers.
"The fine indicates that internet platforms should also obey the laws and create real value for consumers - not just chase profits or make profitability their top priority.
The Communist party's People's Daily, the party's most influential mouthpiece inside China, said the fine represented a "normative correction for the company's development, a clean-up and purification of the industry environment, and a strong defence of fair competition."
"It is an important action to safeguard fair market competition and quality development of internet platform economies," the company said. "It reflects the regulators' thoughtful and normative expectations."
Analysts said the fine alone would not significantly affect Alibaba's operations. The company has $48 billion of cash on its balance sheet as of the end of 2020 and earned $24 billion in net profit last year alone, another reason the fine is merely a slap on the wrist.
But Li Chengdong, chief executive of Dolphin Think Tank, was the fact that Alibaba had been found guilty of serious abuses, meaning it would be more likely to yield in future regulatory disputes over tax and counterfeit goods. "Whereas Alibaba used to have a strong, assertive stance with regulators, now it will be on the back foot," Li said.
The fine likely won't be the last handed down by anti-trust regulators to one of China's dominant tech behemoths: Tencent, whose stock is still reeling from the Archegos blowup, has also been targeted for an anti-trust 'review'.
The crackdown, which burst into public view last October after the CCP scuttled the IPO/spinoff of BABA's Ant Group, a financial group focused on providing payments and loan services to the Chinese population via smartphone apps. Ant is now facing restrictive new regulations that analysts say will hamstring its growth.
Investors will be watching to see how the fine impacts BABA's shares, which have been struggling in recent months as the anti-trust crackdown and broader pressures facing Chinese stocks weighed on demand.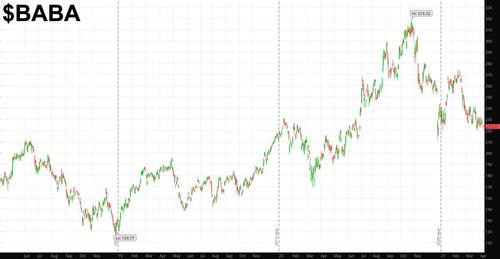 While some analysts dared to suggest that the "worst is over" for Alibaba, others pointed out that China's shifting regulatory framework would likely help empower Alibaba competitors like Pinduoduo, an upstart online retailer that overtook Alibaba's annual shopper count last year, with 788 million people buying on its platform, vs. 779 million for Alibaba.
Whatever regulators have in store for Alibaba, it appears Beijing isn't yet finished punishing the company's founder and longtime leader, Jack Ma, as authorities have just halted enrollment at a business school Ma founded a few years back that has become one of the most prestigious academic institutions in the country.