---
Alibaba Shares Soar After Company Unveils Breakup Into Six Companies
The South China Morning Post reported that Alibaba Group Holding is preparing to overhaul its massive operations.
The company plans to split its $220 billion empire into six independently run entities:
Cloud Intelligence Group
Taobao Tmall Commerce Group
Cainiao Smart Logistics
Local Services Group 
Global Digital Commerce Group 
Digital Media and Entertainment Group
SCMP noted that Alibaba's shares in New York and Hong Kong would remain unaffected under its first significant overhaul since its founding more than two decades ago. 
In a statement, Alibaba said the overhaul is "designed to unlock shareholder value and foster market competitiveness."
SCMP provided more details about the letter to employees and the future corporate organization structure: 
Alibaba's group chief executive Daniel Zhang will sit at the apex of the holding company, but will devolve all operational decisions including hiring and firing, research, profit and losses to the CEOs of each business unit, according to his letter to the company's employees.

"This transformation will empower all our businesses to become more agile, enhance decision-making, and enable faster responses to market changes," Zhang said. "With this change, middle and back office functions at [Alibaba] will be slimmed down, while only functions required for listed company compliance will be retained."
Each business unit will be given a pathway to raising funds through initial public offerings, said Alibaba.
Alibaba shares listed in New York jumped more than 7% in premarket trading, indicating the market welcomes the move as it might unlock intrinsic value.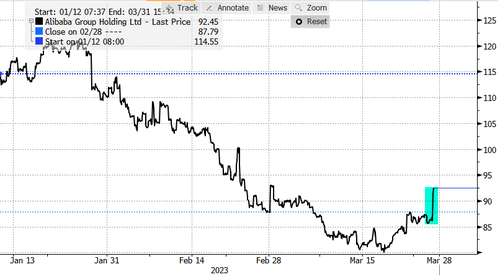 Here's what Wall Street analysts are saying about the news (list courtesy of Bloomberg): 
Vey-Sern Ling, managing director at Union Bancaire Privee: 

"Alibaba is trading at depressed valuation multiples as a group. This is made worse by loss-making units, like cloud, digital entertainment etc, which drag overall profitability and hence pull down its overall valuation" 
"If business units can spin off and IPO, it can help to crystallize value for Alibaba and make it more transparent for investors"

Marvin Chen, an analyst at Bloomberg Intelligence:

The move is "one step in the direction" of China's campaign to curb monopolistic practices of tech giants 
"While China tech spin offs are not uncommon, the move looks to be more encompassing, including core businesses, that may serve as a blueprint for the industry going forward"

Xiadong Bao, fund manager at Edmond de Rothschild Asset Management: 

"Together with yesterday's headline of Jack Ma and today's news on private sector entrepreneurs, these changes of perception should help market to confirm that China is refocus on growth" 
The market should welcome the move given the gap between Alibaba's intrinsic value and current market value

Steven Leung, executive director at UOB Kay Hian: 

News follows Beijing's vow to support the private sector, which is necessary if China wants to achieve its 5% GDP growth target 
"We are not sure if Ant Group can be listed any time soon, but at least its subsidiaries could be able to do more fundraising," which is beneficial to the whole company

Yang Wei, fund manager at Longwin Investment Management: 

The shake up will help Alibaba solve some of the problems associated with firms that become bulky and suffer from a lack of efficiency 
Its cloud business, for instance, is likely the first to get public funding while others that do not help the digitization of the economy will get lower priority 
Move should not expedite expectations of Ant Financial's listing

Gary Dugan, chief executive officer at Global CIO office: 

Plan to spit up business is assumed to have had some kind of "blessing from the authorities" in which case it's seen as a solution for "unlocking the value inside the business" 
Sees move as positive for tech sector as it implies authorities are happy to companies to flourish but not concentrated in power
Today's announcement coincided with the return of its billionaire co-founder Jack Ma to China after more than a year abroad. 
Loading...