---
All Hell Breaks Loose In Turkey: Stocks Halted, Overnight Lira Implied Rate Hits 10,000%
Chaos has broken out across Turkey's capital markets with bank shares crashing and marketwide stop-loss halts activated after President Tayyip Erdogan shocked investors by sacking the central bank governor.
Turkey's stock market logged its worst two days since the global financial crisis of 2008 this week: the fall in Turkey's main Borsa Istanbul (BIST-100) index on Monday was the largest since mid-2013, when the Fed's "taper tantrum" hammered emerging markets including Turkey. Turkey started off just as bad, with the BIST 100 Index plunging almost 9%, triggering circuit breakers on the Istanbul bourse for the second day.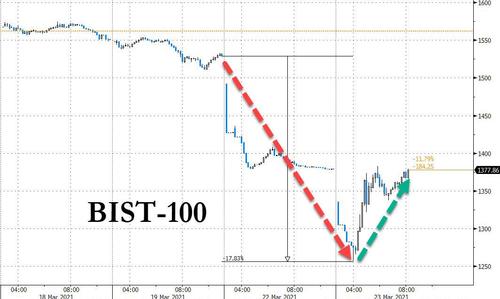 For now, the BIST-100 appears to be supported by the 200DMA however it is only a matter of time before that support is taking out oo.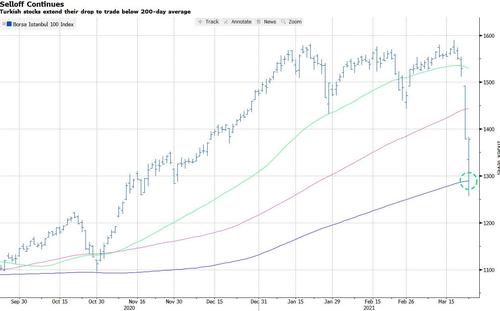 But as Bloomberg notes, after a few hours of panicked selling, stocks had clawed back almost all of the losses and the lira stabilized near a record low. Losses in Turkish markets slowed on Tuesday as some investors scooped up bargains, pulling the main equity gauge back from its biggest two-day drop in 20 years.
The BIST 100 was flat at 8am in Istanbul, helped by gains in shares of exporters and companies with foreign currency income. A gauge of banking stocks lost 6.8% after a slump of as much as 9.6% earlier. Before the partial recovery, Turkey's banking index was down 8%, with Garanti Bank and Akbank leading the losses.
Indeed, after a chaotic trading day on Monday in the wake of President Erdogan's decision to fire central bank Governor Naci Agbal and appoint a hand-picked puppet who believes in Erdoganomics - the country's 4th central banker in 2 years - markets seemed to calm down following reassuring statements from Turkish officials. Yigit Bulut, a senior adviser to Erdogan, said the central bank would avoid any extraordinary steps under Agbal's successor, Sahap Kavcioglu. He also reiterated Erdogan's monetary policy theory that high inflation is caused by elevated interest rates.
Still, it will be extremely difficult to restore foreign investor confidence in the country's battered financial system now that the central bank is officially Erdogan's plaything. As Reuters notes,although the index briefly turned positive on Tuesday in high volatility following an initial dive, analysts said foreign investors were abandoning positions.
"Foreigners are vacating their positions at their losses regardless of the price, and the reaction in the market seems difficult until these orders are finished," said Enver Erkan of Tera Yatirim quoted by Reuters.
Local investors seemed far more optimistic: "We're starting to remove some of the hedges as we see opportunities in some stocks," said Semih Kara, chief investment officer of Tacirler Asset Management, whose equity fund had the best return in 2020. Kara said the fund is mostly looking to add non-bank names, particularly the shares of exporters and companies with strong cash positions and no foreign-currency debt.
Many local retail investors selling shares "recently entered the market and have no experience with sell-offs," said Tuncay Tursucu, director of research at Integral Securities. "On the other hand we see companies and stakeholders keep on buying and taking gradual long term positions."
The burst of domestic buying may have been one of patriotism: one of Erdogan's economic advisors, Yigit Bulut, called the stock selloff a temporary speculative attack. Speaking on broadcaster Haberturk, he said Turks had sold $5.1 billion on Monday to profit from high exchange rates as the lira fell to near record lows following Agbal's departure.
"Investors had a bitter pill to swallow with yet another pivot at the central bank," said Akber Khan, senior director of asset management at Al Rayan Investment in Doha. "With his proactive measures, Agbal had rapidly built precious credibility with investors, so his abrupt departure, and little clarity on the way forward, left investors fearing the worst."
There was some stabilization in the currency as well, with the lira adding 0.3% to 7.887 per dollar after plunging as much as 17% on Monday. But options traders are the most bearish on the currency on record, one-month risk reversals show. Renaissance Capital predict the lira could slide a further 14% by year-end.
It won't be cheap for traders who wish to short the TRY however: as of this morning, the Turkish Lira Forward Implied overnight rate was trading at 600% after hitting an insane, all-time-high 10,000% earlier as keeping a short position in the currency has now become virtually untenable.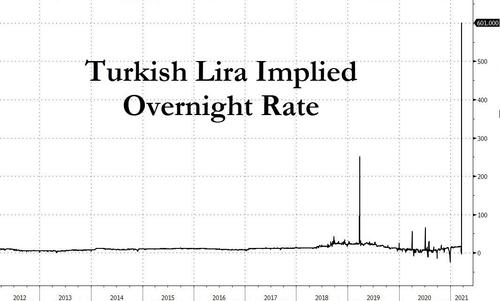 Needless to say, such a punitive high rate is unsustainable and once the implied ON rate drops, shorts will renew their attacks on the crippled currency.
Meanwhile, the yield on Turkey's benchmark 10-year local-currency bond was up nine basis points at 18.98%, the highest since May 2019, following Monday's record jump of 483 basis points.
Unfortunately, while Turkey scrambles to preserve some order, it will be all for nothing because as we said yesterday, Turkey is now "beyond the tipping point."
"Barring the carry, which is suppressing short-term weakness in the lira, the overall decimation of central-bank credibility and independence will see further outflows out of Turkey," said Saed Abukarsh, chief investment officer at Ark Capital Management in Dubai.
"Ultimately, Erdogan would like to make an omelet without breaking any eggs" he added, an assessment we fully agree with.