---
‪"Almost $1 Million Disappeared": A Robinhood Horror Story 
It certainly doesn't help when President Trump, overlooks the downturn in the economy, nevertheless permanent job loss and deep economic scarring, by tweeting out to the tens of millions, just how well the stock market is doing. 
As the Nasdaq soars to record highs - Sentiment Trader shows Trump's tweeting about the stocks increases.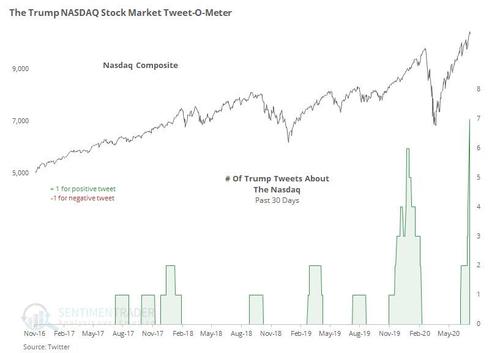 Trump is an advertiser of the stock market - tens of millions see him tweeting about how wonderful it is - and as human nature shows, there's been a massive increase in Robinhood accounts of people who want to join the party on Wall Street with zero-commission trades. 
Actually, the type of people coming to the party is not the typical career alcoholics who can handle three liquor shots, a kegstand, then a couple of beer bongs - no, these new daytraders are like high schoolers who haven't figured out how many beers it takes to blackout. They get sloppy and make mistakes. 
Richard Dobatse, a Navy medic in San Diego, is one of those inexperienced daytraders who lost big. Just how big? Well, he lost $860,000 in March.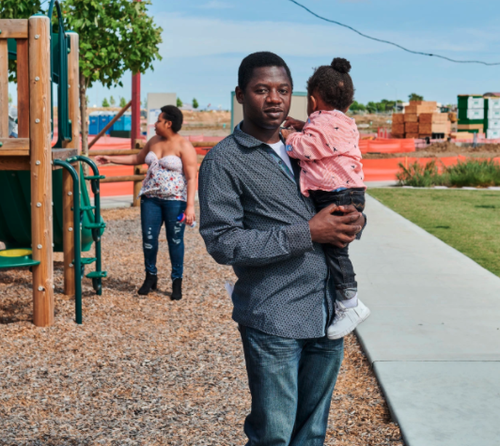 Dobatse was buying and selling stocks on Robinhood. He funded his account with $15,000 in credit card advances - even took out two $30,000 home equity loans to trade the most speculative stocks and options, with hopes to pay off his debts. At one point earlier this year, his account had $1 million - now in freefall, the account is worth $6,956, reported The New York Times. 
"When he is doing his trading, he won't want to eat," said his wife, Tashika Dobatse, with whom he has three children. "He would have nightmares."
This has led to enormous losses for people like Richard Dobatse, a Navy medic who took out two home equity loans then watched his portfolio fall from over $1m to around $7k over the last few months. His wife told us the economic and psychological consequences have been dire.

— Nathaniel Popper (@nathanielpopper) July 8, 2020
'Stocks only go up,' as Barstool's David Portnoy has said - Americans during the pandemic, with no sports to watch, started day trading with their Trump stimulus checks on Robinhood. It was perfect timing to "BTFD" as the Federal Reserve printed trillions of dollars, with some of that money finding a home in equity markets, creating one of the largest and quickest speculative rallies in history. 
Alphacution reviewed filings from nine brokerage firms - shows Robinhood's users trade the riskiest stocks and options and at the fastest pace. 
The Times said in 1Q20, "Robinhood users traded nine times as many shares as E-Trade customers, and 40 times as many shares as Charles Schwab customers, per dollar in the average customer account in the most recent quarter. They also bought and sold 88 times as many risky options contracts as Schwab customers, relative to the average account size."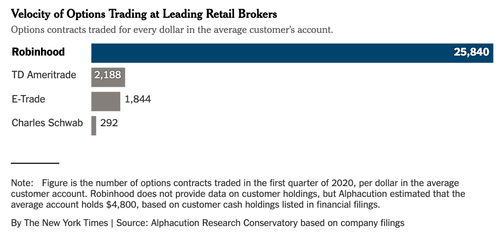 We noted Robinhood daytraders were panic buying nearly every bankrupted company - including insolvent shale companies and rental car firms. Portnoy led an army of day traders to "BTFD" in airline and cruise ship stocks. 
Though the dangers, shown in the Dobatse's horror story - were nationally recognized when a young Robinhood user committed suicide after logging into the app and seeing his speculative trades blown-up, with a balance of negative $730,000.
"They encourage people to go from training wheels to driving motorcycles," Scott Smith, who tracks brokerage firms at the financial consulting firm Cerulli, said of Robinhood. "Over the long term, it's like trying to beat the casino."
In May, Robinhood said it had 13 million accounts, up from 10 million at the end of 2019, indicating about three million inexperienced millennials (average age of an account holder is 31yo) joined Wall Street's party during the pandemic - and in some cases - these newly minted traders outpaced hedge funds in returns - upsetting Goldman Sach's clients.
Vlad Tenev, a founder and co-chief executive of Robinhood, told The Times that some of its clients lose money, though he indicated millennials risked greater losses from not being invested.
Not buying stocks has "ultimately contributed to the sort of the massive inequalities that we're seeing in society," Tenev said.
He said about 12% on the platform are option traders, adding that the education section has been added on the app to teach traders how to manage risk. 
In June, the actor Ashton Kutcher, an investor in Robinhood, attended a company meeting via Zoom and compared the platform to gambling websites. 
Kutcher said in a statement that his comment "was not intended to be a comparison of business models nor the experience Robinhood provides its customers" and that it referred "to the current growth metrics" - and added that he wasn't comparing the app to a "gambling platform." 
Andrew Reed, a partner at Sequoia, said, "Robinhood has made the financial markets accessible to the masses and, in turn, revolutionized the decades-old brokerage industry." 
Though it has come at a cost, as millions of Americans throw good money at highly leveraged trades risk blowing up their accounts and or their mental health.
In recent years, users who've blown up their accounts have confronted employees at its headquarters in Menlo Park, California, forcing the company to install bulletproof glass at the front entrance. 
The party on Wall Street could be nearing the latter innings - as the Fed's balance sheet has contracted for a third week, along with new signs in real-time data that suggest the economic recovery has stalled. 
It's likely we've not heard of the last Robinhood account blow-ups - more will come when the market corrects due to inexperienced daytraders not understanding how to manage risk. 
As for Dobatse - with nearly a million dollars disappeared - his financial and health well-being is severely impacted.