---
Almost Two Thirds Of Democrats Want To See Challengers Run Against Biden; New Poll Finds
Authored by Steve Watson via Summit News,
A new Rasmussen poll has revealed that among Democratic voters, almost two thirds would like to see challengers run against Joe Biden, with less than 40 percent believing Biden should seek a second term.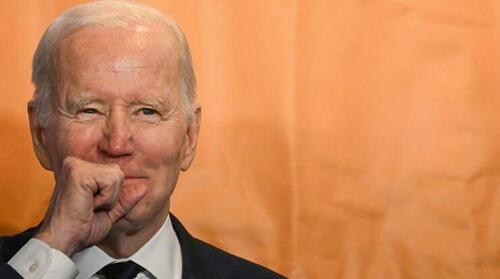 The survey reveals that only 39 percent of voters believe Biden should run for reelection as president in 2024, while 48 percent are of the opinion that Biden shouldn't run again.
The poll also notes that Sixty two percent of Democratic voters believe that if Biden does run for reelection next year, other Democrats should challenge him in the primaries.
Only 21 percent said they don't want to see Democratic challengers to Biden.
Biden 2024? 62% of Democrats Want Challengers

Majority of Democrats support RFK, Jr. Presidential Campaign https://t.co/Q9zkNAjLY7 pic.twitter.com/JIuyXnDqei

— Rasmussen Reports (@Rasmussen_Poll) April 12, 2023
The survey also found that Robert F. Kennedy Jr., who has announced he will be launching a 2024 campaign, is supported by forty-six percent of voters, with 18 percent saying they strongly support him.
More than half (52 percent) of Democratic voters said they would back RFK Jr.'s challenge, but he garnered even more support from conservatives:
Over half of Democrats back RFK Jr.'s challenge to Biden https://t.co/3lPbwURFaX

— Rasmussen Reports (@Rasmussen_Poll) April 12, 2023
Not kidding - ideological liberals are most opposed to @RobertKennedyJr 's presidential run.

Democrats, however, are more likely to support him, though only slightly more than Republicans and Independents. https://t.co/LgWEBZvXTj pic.twitter.com/gyCidW7NjX

— Rasmussen Reports (@Rasmussen_Poll) April 12, 2023
As we highlighted last week, a CNN poll found that only one third of voters in America believe Joe Biden should be reelected, with most Democrats saying they would prefer a different candidate.
OOF: Less Than One Third Of Voters Want Another Joe Biden Term
Just two months ago, an Associated Press poll revealed that close to two thirds of Democrats don't want to see a second Joe Biden term, a massive decline of 15 percent in just three months.
An NBC News poll registered similar results, noting that only a third of voters are comfortable with Biden running again:
Poll: Only 37% Of Democrats Want Biden To Run In 2024
The latest findings come after Donald Trump said he cannot see Biden being able to run again because "there something wrong" with him:
Trump: "There's Something Wrong" With Biden
*  *  *
Brand new merch now available! Get it at https://www.pjwshop.com/
In the age of mass Silicon Valley censorship It is crucial that we stay in touch. We need you to sign up for our free newsletter here. Support our sponsor – Turbo Force – a supercharged boost of clean energy without the comedown. Also, we urgently need your financial support here.
Loading...