---
Amazon 'Denies' Considering Moving Into Low-Cost Mobile Phones
Update (0945ET): In a very 'soft denial', an Amazon spokesperson told Reuters that the company is "always exploring adding even more benefits for Prime members, but don't have plans to add wireless at this time."
For now, the denial is being ignored with shares of telecom stocks lower.
In Europe, the Stoxx Telecom Index fell as much as 2.7% in its biggest one-day decline since February.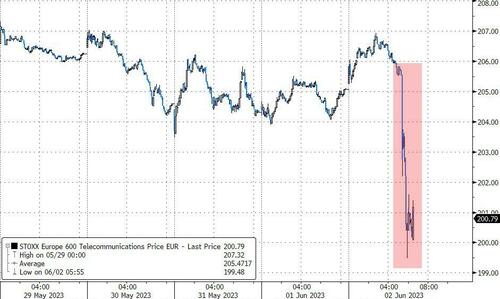 In the US, Verizon fell more than 4% in early trading, while T-Mobile slid as much as 7%.
AT&T 's stock was down more than 5%. Dish shares surged more than 14%.
*  *  *
It looks like Amazon is going to try its hand in cell phones.
The e-commerce giant reportedly is working with wireless carriers about potentially offering low-cost service for its PRIME members, a Friday morning Bloomberg report says.
Just when you thought Amazon couldn't agitate Democratic leaders who conjure up antitrust complaints for a living any further...
As of now the company is talking to AT&T, Verizon Communications Inc., T-Mobile US Inc. and Dish Network Corp. to try and find its lowest cost wholesale option, with the goal of offering PRIME members wireless plans for as little as $10 a month - or possible even free.
Talks have been ongoing for about 2 months, the story says, and could take several more months to launch. The idea could also ultimately wind up scrapped, the report says. 
An Amazon spokesperson said: "We are always exploring adding even more benefits for Prime members, but don't have plans to add wireless at this time."
About 167 million Amazon customers have PRIME memberships, with U.S. customers paying $139 per year for the service.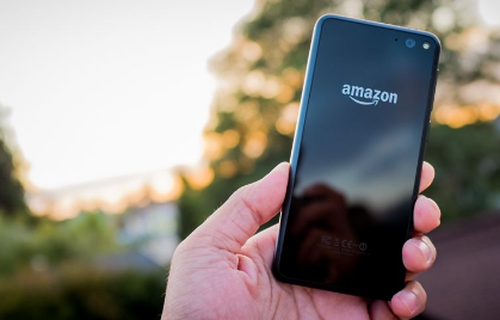 The pros of such a service from Amazon are that (1) it could help fill out 5G infrastructure and (2) it could help boost wholesale revenue for the wireless industry.
Bloomberg writes that this gives Amazon some leverage, noting that major carriers are looking to create return on their investments into 5G:
"Having poured billions of dollars into super-fast, high capacity 5G wireless networks, the mobile operators have little to show for the effort and are eager to find new applications and sales outlets that can generate some return on the investment."
However, mobile carriers are also aware of the risk that Amazon's low-cost service takes hold and starts to erode the business of major carriers, where low-cost monthly service generally starts closer to $60 than $10. 
"Anytime Amazon enters a new market, it sends shivers through the industry," Bloomberg wrote Friday morning, pointing out the obvious: that such a behemoth entering into a newly established industry would cause obvious shockwaves.
And, of course, anytime any large company moves into any new industry, its a given we'll be getting a strongly worded letter from AOC and Elizabeth Warren on the matter...
Loading...