---
Amazon To Fire 18,000 Workers As Tech Layoffs Surge
Salesforce told employees early Wednesday that 10% of its workforce would be cut. And the layoff announcements keep coming, as Amazon told employees last night that thousands of jobs would be eliminated due to uncertain macroeconomic conditions. 
Amazon CEO Andy Jassy published a memo on the company's blog about eliminating 18,000 jobs, many of which are concentrated in the firm's corporate ranks. 
Today, I wanted to share the outcome of these further reviews, which is the difficult decision to eliminate additional roles. Between the reductions we made in November and the ones we're sharing today, we plan to eliminate just over 18,000 roles. Several teams are impacted; however, the majority of role eliminations are in our Amazon Stores and PXT organizations.
The layoffs were already known. We noted in November the Seattle-based company was planning to cut 10,000 corporate jobs. However, the figure Jassy provided is 8,000 more than expected. 
And like Salesforce and many tech companies that have been hemorrhaging workers due to overhiring as the economy downshifts, Jassy appears to note the same in his reasoning for the mass firing:
This year's review has been more difficult given the uncertain economy and that we've hired rapidly over the last several years. 
Jassy continued: 
These changes will help us pursue our long-term opportunities with a stronger cost structure; however, I'm also optimistic that we'll be inventive, resourceful, and scrappy in this time when we're not hiring expansively and eliminating some roles. Companies that last a long time go through different phases.
Many tech companies addicted to low borrowing costs have had to tighten their belts as the Federal Reserve is nearly a year into the most aggressive interest rate tightening cycle in a generation. Here are some of the latest tech companies reducing headcount to survive mounting macroeconomic headwinds. The website LayoffsTracker provides a snapshot of tech layoffs.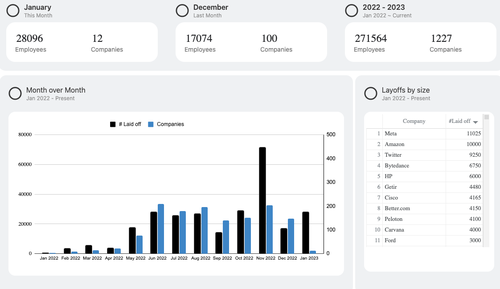 The cuts at Amazon represent about 6% of the company's 300,000-person corporate workforce. The overall workforce peaked in March 2022 at around 1.6 million workers (this also includes warehouse workers).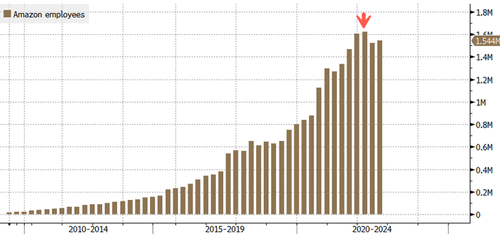 Amazon's headcount reduction is a sign the consumer has cut back on discretionary spending to weather the more than 19 months of negative real wage growth, plunging personal savings, and maxed-out credit cards with some of the highest interest rates ever. 
Loading...