---
Amazon Hits Record High On Blowout Earnings And Guidance
With the bulk of the FAAM(N)G stocks reporting somewhat mixed earnings so far, with NFLX and MSFT disappointing offset by solid results from Google and Apple (although one wouldn't know it looking at today's stock price), investors were keenly looking for a tiebreaker from today's Amazon earnings, where according to Bloomberg, the biggest question for Amazon is how sustainable are the growth trends that boosted its performance during the pandemic. The Internet giant was one of the biggest beneficiaries of shifts in consumer and business behavior last year.
Many consumers flocked to buy things online as they wanted to avoid infection at physical stores. Further, Amazon Web Services revenue soared on back of rising usage from Internet digital services - including remote-working software, videostreaming and gaming. But with the wider available of vaccines and as employees start to return to physical offices, the risk is some of these trends may start to reverse. Bloomberg also notes that investors will be also looking for any commentary on the future prospects for regulation and antitrust legislation.
Questions aside, Amazon shares rallied in recent weeks, gaining about 18% off a year-to-date low in March. The stock has been approaching an intraday record of $3,552.25 that was set in early September. Shares rose about 0.3% Thursday ahead of results.
* * *
So with that in mind, how did Amazon do? Well, in the first quarter since Jeff Bezos announced his departure, we just had another blockbuster quarter for the online retailer which blew away consensus estimates and also guided solidly higher than expected, potentially tipping the scales bullishly for the megatechs. Here is a summary for Q1:
Net Sales $108.5B, beating estimates of $104.56B
EPS $15.79, beating estimates of $9.690
Operating Income $8.9B, beating est. $6.11B
AWS net sales $13.50 billion, beating estimate $13.09 billion
Amazon Web Services net sales +32%, estimate +22.5%
Online Stores Net Sales $52.90B, beating est. $50.63B
Free cash flow increased to $16.8 billion for the trailing twelve months, compared with $11.7 billion for the trailing twelve months ended March 31, 2020.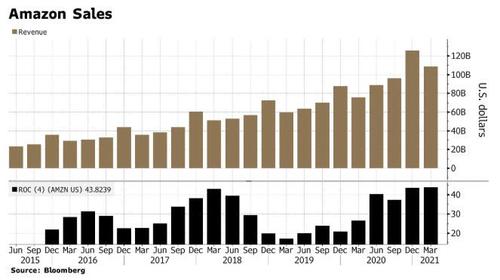 Looking ahead, the company's guidance was once again stellar brushing away concerns that Amazon's pandemic burst will soon fade:
Q2 Net Sales $110.0B to $116.0B, smashing Wall Street est. $108.35B, and assumes $1.5B of costs related to Covid-19
Q2 Operating income between $4.5 billion and $8.0 billion, compared with $5.8 billion in second quarter 2020.
Commenting on the results, Bloomberg Intelligence Senior Analyst Poonam Goyal said that "what's most impressive is the guidance here. Just overall another sign that digital is at the forefront of consumers' minds."
Digging into the numbers we find that the company's revenue grew by a whopping 43.8% in Q1, just above the 43.6% last quarter and the biggest increase since 2011, with Q2 midline revenue ($113BN) projected to grow an even more impressive 44.9%.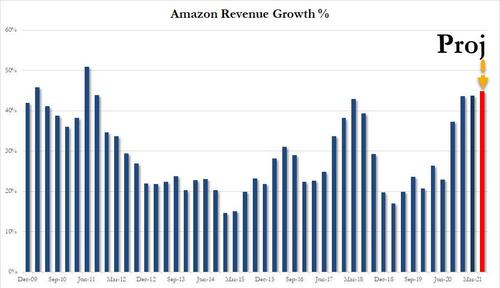 At the same time, operating margin rose dramatically, jumping from 5.5% to 8.2%, the highest in recent history.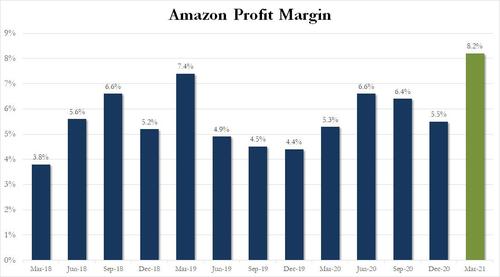 A look at margins showed a remarkable improvement in both North American and Intl retail margins, while the AWS margin of just under 31.8% was a solid rebound from the drop in Q4 to 27.9%, potentially easing investor concerns that margins at the unit may have peaked.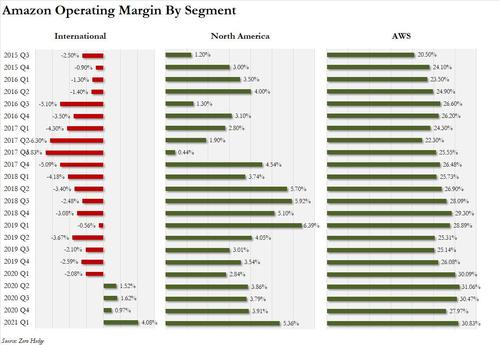 Amazon's total Free cash flow (including leases and obligations) was $26.410 billion for the trailing twelve months, up 9% from $24.337BN a year ago.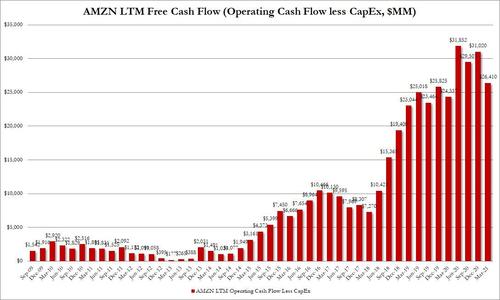 And speaking of AWS, revenue rose by 32.1%, far above the 22.5% analysts consensus. And as shown in the chart above, operating margin was up solidly both year over year and especially, sequentially.
"AWS continues to shine here, where they are really making the mark is on the margin side. We think it's a cash cow that will keep on giving. Plenty of opportunity for them to gain share in the cloud space" according to BI's Goyal.
Curiously, for the first time in two years, the company's employees actually dropped.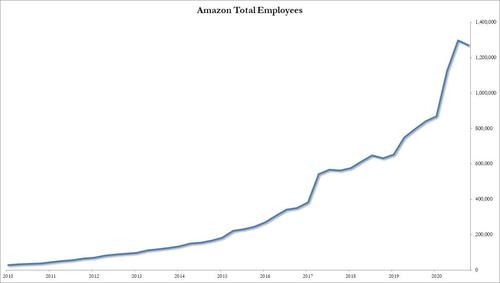 Also notable is the new earnings release layout:for a company that used to kick off its earnings release with a rundown of its business accomplishments, Amazon now bombards readers to long sections on its efforts to look out for its employees, provide services to small businesses, and reduce Amazon's contributions to greenhouse gas emissions, among other initiatives.
Jeff Bezos long preferred to run his company as a pure exercise in dollars, cents, and pleasing customers. But with Amazon facing questions about its market power and potential antitrust violations around the world, his company has gotten into the image-burnishing business. - Bloomberg
Summarizing the results, Bloomberg's Kriti Gupta writes that Amazon is follows the rest of "big five" tech stocks with another earnings beat, noting that "anyone expecting revenue growth to wane should look elsewhere. In fact, the company expects its second quarter to be even better, with $110 billion to $116 billion in net sales compared with an estimated $108 billion. Add in gains in its web services platform, and you have Jeff Bezos's recipe for success."
This is significant for macro traders because Amazon was the only company among of the "big five" -- which also includes Apple, Alphabet, Microsoft and Facebook -- to expect shrinking revenue growth in the current fiscal year. It's also the most exposed to the domestic market, with only 30% of its revenue coming from international spending. For context, the others have at least 49% international exposure.
To Gupta, these results provide another signal about the strength of the American consumer. If Alphabet, Facebook, Apple and Microsoft are expected to thrive on increased spending upon reopening, Amazon will certainly reap those gains as well.
Bottom line: the first post-Bezos quarter was nothing short of a "grand slam" with revenue and earnings smashing expectations, as did cloud computing sales and income. Looking ahead, the outlook for the current quarter also beat expectations, easing concerns about a post-pandemic let up in sales.
That said, so much for that fake rumor of a stock split sparked by a certain journalist: there was zero mentions of anything remotely close in the earnings report. As Bloomberg notes, "looks like that was a bum read of the tea leaves in Bezos' annual shareholder letter."
The stock predictably has surged after hours, hitting a new all time high of $3,667.66 before retracing some of the gains.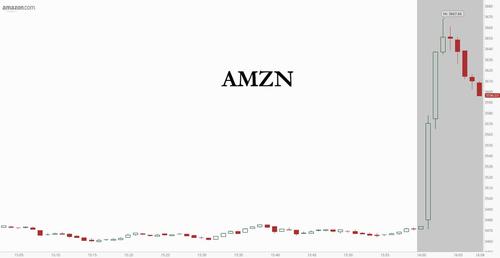 Developing