---
Amazon Prepares To Fire Another 9,000 Workers
Bloomberg reported that Amazon sent an internal email notifying its employees about an upcoming wave of layoffs, which is part of the company's continuing strategy to reduce costs amid mounting macroeconomic uncertainty. 
Amazon CEO Andy Jassy reportedly told employees that an additional 9,000 people would be laid off in the coming weeks. 
Chief Executive Officer Andy Jassy announced the cuts internally Monday, saying they would occur in the coming weeks and primarily affect Amazon Web Services, human resources, advertising and the Twitch livestreaming service groups. --Bloomberg 
The world's largest e-commerce company is grappling with sliding online sales growth and bracing for a possible recession. 
In mid-January, Amazon notified employees about reducing its headcount by 18,000 workers worldwide -- the largest round of jobs cuts in the company's history. 
It appears the company has massively overhired in the last several years -- just like most tech companies. 
Last week, Meta slashed another 10,000 workers. According to the layoff tracking website Layoffs.fyi, 483 tech companies have fired 128,000 workers so far this year.
Shares of Amazon moved slightly higher after the news.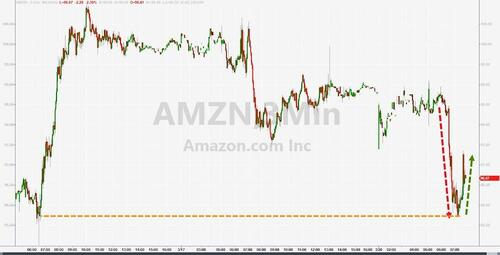 ... and the news comes weeks after Amazon paused construction on its giant second headquarters in Arlington, Virginia. 
Loading...