---
Amazon Slides After Disappointing AWS Results, Sloppy Guidance
With three out of five FAAMG stocks - which of course is now known as GAMMA ever since Facebook's ignominious rebranding to Meta (at least until the company  quietly changes its name back now that the whole Metaverse farce has blown up in its Metaface) - reporting Q3 results after the close today, investors were keenly looking to Amazon, Apple and Google earnings after the close today, to round out the picture for the (former?) market generals and set the tone for the rest of 2023... or at least until tomorrow's payrolls report.
Amazon is expected to post sales of $145.8 billion, translating to 6% growth, which would be Amazon's slowest growth ever for a holiday quarter, and the second lowest in company history. In Q3 2001, during the dot-com bust, sales rose just 0.2% year over year.
Attention will then quickly turn to Amazon Web Services, or the (not so) fast growing cloud unit, which during the most recently reported 12 months, posted about $23 billion in operating income. The rest of the company – online retail to grocery stores and Prime memberships and logistics services – had an operating loss of about $10 billion. As the company's core business slumps under ballooning costs and slower sales growth, the cloud is bankrolling Amazon.
While Amazon's cash machine posted the slowest sales growth in its history last quarter, analysts expect more of the same for 2023, pegging AWS revenue growth around 20% for the next few quarters. Amazon dismisses the gloom, saying it's still early days in a long-term shift away from companies running software on their own servers.
But analysts see challenges ahead. Some big businesses are postponing efforts to move software to AWS data centers, citing the shaky economy. Others are taking a pause after dramatically increasing their spending with AWS and its rivals in 2020 and 2021. UBS analysts recently interviewed about 15 cloud customers and partners of Amazon and Microsoft and came back with a dire read: "This was probably the worst tone that we've heard in years."
Which is why, besides historical performance by AWS, investors will also be closely looking at the company's outlook. Amazon shares crumbled in October when the company forecast slower sales growth during the holiday quarter. Amazon's 1Q forecast is a good place to look if shares react violently after the earnings release.
With all that in mind, here is what Amazon just reported for its just concluded quarter:
Q4 EPS 0.3, missing estimates of 0.13

Net Sales $149.2B, beating estimates of $145.8B

Physical Stores net sales $4.96 billion, +5.7% y/y, beating estimate $4.93 billion

Online stores net sales $64.53 billion, -2.3% y/y, missing estimate $65.03 billion

Third-Party Seller Services net sales $36.34 billion, +20% y/y, beating estimate $32.48 billion

Subscription Services net sales $9.19 billion, +13% y/y, beating estimate $9.01 billion

North America net sales $93.36 billion, +13% y/y, beating estimate $90.1 billion

International net sales $34.46 billion, -7.5% y/y, beating estimate $33.51 billion

And the important one: AWS net sales $21.38 billion, +20% y/y, missing estimate $21.76 billion

Operating income $2.74 billion, -21% y/y, beating estimate $2.51 billion

Operating margin 1.8% vs. 2.5% y/y, missing estimate 1.85%

North America operating margin -0.3% vs. -0.2% y/y, beating estimate -0.34%

International operating margin -6.5% vs. -4.4% y/y, beating estimate -7.99%

Fulfillment expense $23.10 billion, +2.9% y/y, beating estimate $23.16 billion

Seller unit mix 59% vs. 56% y/y, estimate 57%
Bottom line here, Amazon beats expectations for 4Q revenue and operating income, but missed on net income, although some of that is the noise from a valuation markdown of Amazon's stake in electric vehicle maker Rivian, which prompted AMZN to take a $2.3 billion pre-tax hit in Q4, after the electric vehicle startup fell 44% during the quarter. Amazon owns about 17% of Rivian's shares (Rivian, which makes a pickup truck marketed toward eco-conscious adventure seekers, as well as delivery vans for Amazon, has struggled to produce vehicles as quickly as it had previously hoped. The company recalled almost all of its vehicles to fix a structural defect, scrapped a joint venture with Mercedes-Benz for a European electric van, and held layoffs.)
And while revenue was solid even as AWS was a modest miss, one possible reason why AMZN stock is confused after hours is because the company's outlook was again on the weak side, and the company now forecasts the lowest consolidated revenue growth in its history at just over 6%.
Sees net sales $121.0 billion to $126.0 billion, estimate $125.55 billion

Sees operating income $0 to $4.0 billion, estimate $3.52 billion
In short: ok earnings, so-so guidance.
Digging into the numbers we find that operating margins shrank further to just 1.8%, down from 2.0% M/M (and down from 2.5% Y/Y) and missing the estimate of 1.85%. In fact as shown below, the only reason this number wasn't positive is thanks to AWS.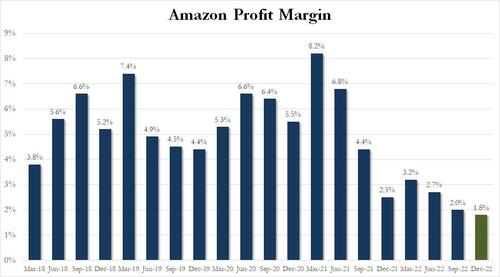 And while the market was not happy with the overall profit margin, it was even less enthused with the profit margin breakdown where one quarter after AWS saw a modest rebound, it has now dropped to the lowest since 2017. At the same time, international operating margin remained negative, with US online sales still unable to turn green. In fact, if it wasn't for AWS, AMZN would have negative operating income for the 5th quarter in a row.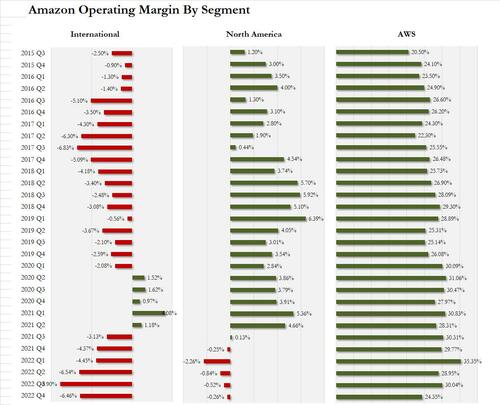 Focusing on AWS, not only did the closely watched cloud group post a significant drop in profit margins, where it also disappoint was in revenue growth, which rose just 20% Y/Y to $21.378 billion, missing the estimate of $21.76 billion.
On the expense side, we already know that AMZN has joined other companies in laying workers off, but a bigger question is whether its employees have plateaued and whether it will start replacing them with robots.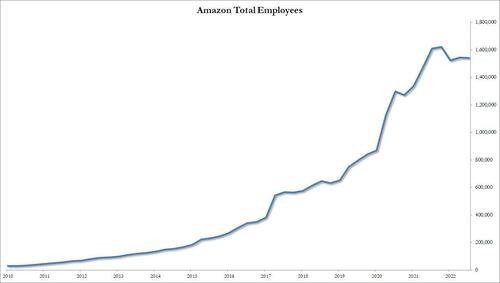 These disappointing data points aside, what markets were also focused on is that forecast revenue growth in a range of $121-$126BN (midline at $123.5BN), was below the $125.55BN expected, while the guided revenue growth of just over 6% was the lowest in the company's history yet.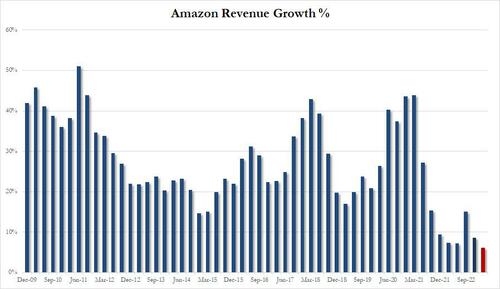 Commenting on the results, CEO Andy Jassy said "We're also encouraged by the continued progress we're making in reducing our cost to serve in the operations part of our Stores business. In the short term, we face an uncertain economy, but we remain quite optimistic about the long-term opportunities for Amazon."
Amazon in 2022 lost money on an annual basis for the first time since 2014. The company reported a net loss of $2.7 billion, compared with a $33 billion profit in 2021.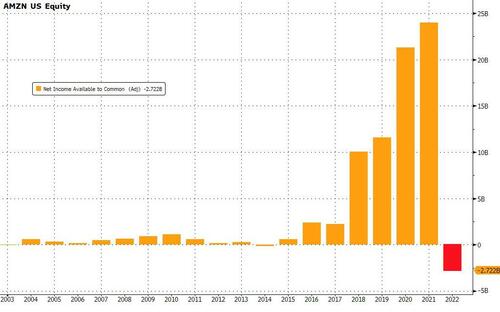 It's an on-paper loss, though. If you strip out the losses tied to Amazon's stake in Rivian, Amazon would have been profitable this year (and a good deal less profitable in 2021). Amazon took a total of $12.7 billion in charges related to the value of Rivian in 2022.
Additionally, you can see the beginnings of Amazon's season of cost cuts in these numbers. 
Overall expenses grew quicker than sales for a sixth consecutive quarter. But the rise in some areas -- fulfillment, sales and marketing, shipping -- were the smallest in years. 

Not so much in technology and content, which includes salaries for much of Amazon's workforce and other R&D spending. That bucket ballooned 36%, the most growth since 2018. Layoffs could take a bite out of that in the current quarter.
The market reaction was mixed, and while the stock spiked higher in kneejerk reaction it has since dipped into the red, dropping as much as 6%, before again bouncing although that too may change depending on what Apple reports in a few minutes.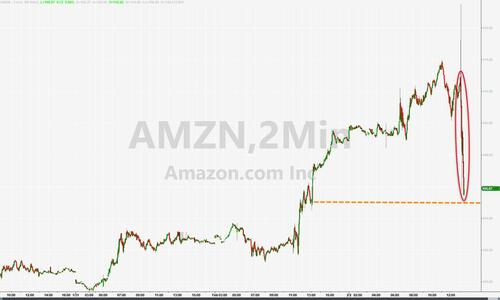 Loading...