---
Amazon Slides Despite Crushing Expectations, Guiding Sharply Higher On AWS Growth, Margin Concerns
Heading into today's earnings call juggernaut which sees over $5 trillion in market cap report among just 4 companies (AAPL $1.9TN, AMZN $1.6TN, GOOGL $1.1TN, FB $800BN) Amazon had once again emerged as the one FAAMG stock that was viewed as the cleanest clean shirt among the uber-mega-cap techs (unlike Facebook and Google it has no risky ad exposure; unlike Apple it has no risky China exposure, unlike Microsoft its upside isn't capped) especially with its consensus eearnings estimates rising sharply in recent months...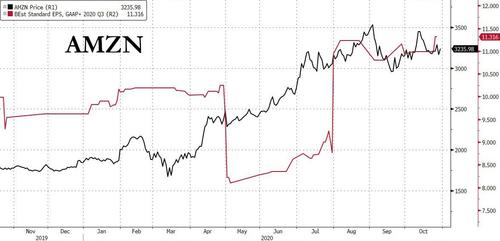 ... helping the stock soar 75% in 2020 hitting a new all time high, and a near record market cap of $1.6 trillion, roughly where it was during its Q2 earnings calls (which saw the company report blockbuster earnings and guide sharply higher) on expectations that the online retailer would be the biggest beneficiary of the transformation in US society to one where most work from home and just order random stuff online while conventional retailers rush to file for bankruptcy.
So was all this optimism - and stock price surge - justified? Well, apparently yes and bigly so because the company not only smashed earnings expectations for the second quarter in a row, but also reported net sales for the second quarter that beat the highest analyst estimate.
Q3 Revenue of $96.1 BN, Exp. $92.71BN; That as Bespoke notes, is 39% higher than the $69 billion in revenues from Q3 2019 and ~$7 billion more than its prior record for any quarter set last quarter. 
Q3 EPS of a whopping $12.37, almost 3x higher than a year ago, and crushing expectations of $7.55, although one should note that AMZN's tax rate was just 8.3% for the quarter, down sharply from 18.8% last quarter
In other words, Amazon smashed both top and bottom line expectations. Not only that but Amazon's also delivered an impressive outlook:
Amazon sees Q4 Net Sales between $112.0 billion and $121.0 billion, or to grow between 28% and 38% compared with fourth quarter 2019, with a midline of $116.5BN, well above the exp. $112.47.51B
Operating income is expected to be between $1.0 billion and $4.5 billion, compared with $3.9 billion in fourth quarter 2019. This guidance assumes approximately $4.0 billion of costs related to COVID-19
Yet despite the stellar numbers the stock is lower after hours. How come?
One possible reason is that AWS revenue in Q3 was of $11.6BN, which while hitting estimates, resulted in a profit margin of 30.5%, slightly below the 31.0% in Q2. In recent months, analysts had been asking Amazon about investments in news sales efforts related to cloud computing, and it looks like Amazon is having to spend a bit more to sustain AWS revenue growth, which can worry investors about profitability. AWS profits help subsidize the rest of Amazon operations.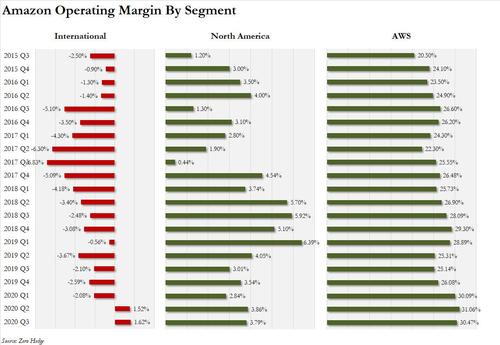 Another possible reason for the drop in shares after hours is that as Boomberg notes, "investors are worried about spending and profitability in the busy holiday quarter. Besides Covid-related expenses, Amazon will have to spend a lot expanding its delivery capacity to meet demand. Investors know customers will be spending. They are worried how much Amazon will have to spend to meet demand."
Meanwhile, AWS revenue growth continues to slow modestly:
Q1 2018: 48%
Q2 2018: 49%
Q3 2018: 46%
Q4 2018: 46%
Q1 2019: 42%
Q2 2019: 37%
Q3 2019: 35%
Q4 2019: 34%
Q1 2020: 33%
Q2 2020: 28.9%
Q3 2020: 28.96%
That said, Amazon's projected Q4 revenue growth of 33.2% (taking the midline) was clearly just as impressive and indicates the company does not expect any headwinds, at least on the topline, although the company's operating income guidance which hints at a sharp drop in margins, is concerning.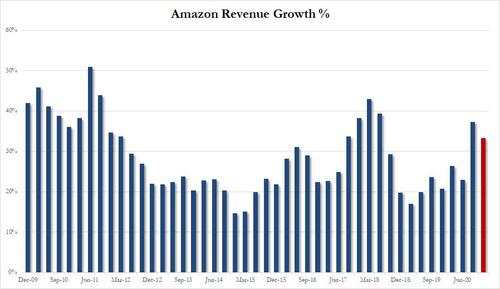 And speaking of profit margins, after hitting 6.6% last quarter, the second highest in recent history, in Q3 margins dipped a bit to 6.0%...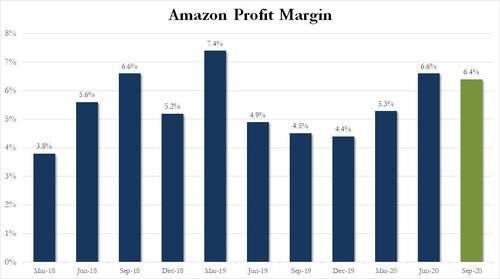 ... with Amazon's guidance suggesting that this number will drop further in Q4.
Some other highlights from the quarter:
AMZN said it continues to ramp up its in-house COVID-19 testing program, with capacity reaching 50,000 tests a day across 650 sites by November
Bezos called on other large employers to raise minimum wage to $15
Commenting on the results, Jeff Bezos said that "we're seeing more customers than ever shopping early for their holiday gifts, which is just one of the signs that this is going to be an unprecedented holiday season. Big thank you to our employees and selling partners around the world who've been busy getting ready to deliver for customers this holiday."
In a separate press release, Amazon says it hired over 400,000 people since the beginning of the year. It's hiring and investing around the globe throughout the pandemic and is gearing up for the holiday season.
In kneejerk reaction, after initially jumping, AMZN stock has since slumped modestly after hours.