---
Amazon's Bezos Sells $2 Billion In Stock Days After Blowout Earnings Report
In the days after Amazon reported blowout earnings, Jeff Bezos sold about $2 billion worth of stock. Additionally, he plans to sell as many as 2 million shares more, Bloomberg noted on Wednesday.
Filings with the Securities and Exchange Commission show that Bezos sold about $684 million worth of stock on Tuesday of this week, after selling $1.27 billion in stock on Monday. The sales likely helped put pressure on Amazon stock this week, as it sold off with the broader tech index. 
Bezos still owns more than 10% of Amazon and remains the world's richest person, according to the Bloomberg Billionaire's Index. His worth comes in at about $191.3 billion.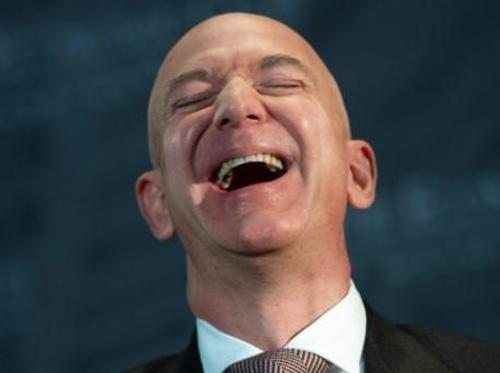 The sales shouldn't come as too much of a surprise; they were made "as part of a prearranged 10b5-1 trading plan", according to CNBC.
Bezos has hastened his stock sales over the last couple of years: he sold about $4.1 billion in stock last February and sold more than $3 billion in stock last November. 
Recall, about a week ago, Amazon quickly tapped new highs before retreating, with the rest of the NASDAQ, in the following several sessions. Amazon stock soared above $3600 after, in the first quarter since Bezos announced his departure, the company had a blockbuster quarter which blew away consensus estimates and also guided solidly higher than expected.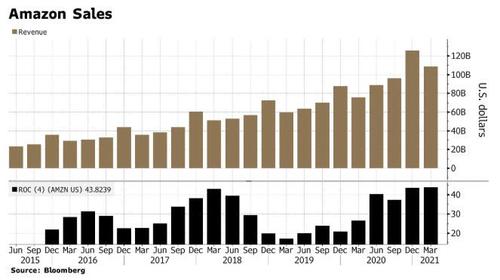 Commenting on the results, Bloomberg Intelligence Senior Analyst Poonam Goyal said that "what's most impressive is the guidance here. Just overall another sign that digital is at the forefront of consumers' minds."
"AWS continues to shine here, where they are really making the mark is on the margin side. We think it's a cash cow that will keep on giving. Plenty of opportunity for them to gain share in the cloud space" according to BI's Goyal.
Amazon stock now trades about 10% off those highs - but we're certain Bezos isn't bothered by the dip.